New Orleans will have its First Female Mayor.
(ThyBlackMan.com) November 18, 2017 is the date for the run-off for the electing of the new mayor. What we know for certain is the new mayor will be New Orleans first female mayor, and from the looks of things it will be a black woman. The first thing that caught my attention is naysayers claiming the candidates, LaToya Cantrell and Desiree Charbonnet, were basically the same so why bother. The truth is the turnout for the elections were seriously low, and this ought to be a sore point of concern. Basically, the people of New Orleans, especially native blacks, don't feel their issues are being heard.
They feel as though they are sitting back watching their city be taken away by gentrification, and outside contractors. The people are not stupid. They can know what parts of the city seem to have been left in ruins and the price of living makes it difficult to stay in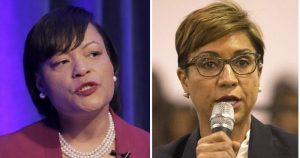 the neighborhoods many black people have lived in for generations. With all of the points of concern in the city it's ironic that some would label the candidates as same.
The stereotypes made are astounding in a sense that no all black people don't look alike, and all women don't think alike. I wonder if they would be considered similar if they were two men. Furthermore, if one were white I'm sure they would be deemed as different. It's important to take a good look at both women and decide how you will cast your vote.
One of my major concerns is LaToya Cantrell is a City Councilwoman, and Desiree Charbonnet is a former judge. This may not seem important at first, however it may have an effect on how they approach changes that need to be made in the city. This may also have a drastic effect on how they intend to deal with the crime issues, in New Orleans and the disenfranchisement many citizens have faces in the courts.
LaToya Cantrell may have to face attacks regarding not being a native of New Orleans. She is from Los Angeles, and moved to the city when she was 18 to attend Xavier University. However, before you write her off realize that Desiree Charbonnet is bred from New Orleans politics as she is backed by Congressman Cedric Richmond. She also has the support of old 7th ward political families such as that of former mayor Sidney Barthelemy. Ask yourself do you remember his administration, and did it set well with you.
Cantrell began as a community activist, became a council woman, and wants to create a balance that will allow all the citizens of New Orleans to feel included in their city. She wants a balance whereby all can be successful. While Charbonnet stands by wanting to see reform within the criminal justice system. We need a mayor that will tackle issues like: crime, gentrification, poverty, improving education, and creating an environment whereby blacks will not continue to be denied equity and equal opportunity. Do your research, and please turn exercise your voice by voting. One thing is for certain regardless of who wins the victory will be historic.
Staff Writer; Chelle' St James
May also connect with this sister via Twitter; ChelleStJames.