Organizing Group Trips? Here's What You Should Know.
(ThyBlackMan.com) If you've been selected as the trip organizer for your friends, family or classmates, you probably know the effort and time it takes to plan and meet everyone's expectations. Creating the right itinerary for a group trip is never easy. Everyone loves a unique tour experience, so all you need to do is include activities and sightseeing locations everyone can enjoy.
Whether you're new to organizing group trips or are already overwhelmed with the options available for your trip, here's a small list of things to consider when planning your next trip.
Know Where to Get Accommodation
The most important thing when planning a group trip is finding an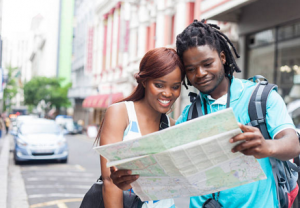 ideal place to stay with your fellow travelers. Consider the number of people traveling and then book an ideal accommodation in advance to get the best deals. For cheaper deals, consider booking offseason and know that weather conditions could change.
The best accommodation location should be at a central point where you can easily access and see all of the sights you're interested in. If for instance, you're visiting New York City, booking an affordable hotel within the city neighborhoods or a vacation home just outside the city is a good option, so long as public transport is available.
Get the Right Transport
Choose the best mode of transport depending on what you plan to visit and where you plan to stay. If you're planning a city tour, public transport would be the best option as it's easy to move around from one point to another. If you're a group of 4-6 travelers, a mini taxi van would also be a good option. For bigger groups willing to spend, hiring a tour bus or limo would be a great experience.
Alternatively, you could consider a more engaging and fun way to move around like bike rentals for the entire group. Sightseeing on a bike allows you and your group to cover more ground in a day, see more places and enjoy the physical challenge of cycling as you enjoy the touring experience. Bike tours are provided in most big cities.
Know Where to Eat
When planning group trips, you'll need to find good places to eat that can accommodate your group. Instead of stressing yourself with reservations, opt for local eateries that allow you to make orders right at the front counter. Memorable meals are what makes a trip, so do some advance research to know the best places you can eat.
Consider booking a group culinary tour, read local publications and posts from local food and restaurant bloggers, ask locals and avoid eating at or near popular tourist attractions to avoid the crowds. Consider sampling different types of foods. There's always a great restaurant you can find around the corner offering great menus but always know what you're eating.
Consider Different Types of Tours
Traveling as a group can be fun but incorporating different types of tours everyone is comfortable with can make the entire trip even more memorable. Consider guided walking tours to popular sightseeing attractions to keep everyone active during your vacation and don't forget your camera for great photo opportunities.
If you're a larger group visiting a big city, bus tours offer a great opportunity to explore what the city offers in a relaxed and comfortable way. If you're visiting a seaside town or simply want a unique experience such as stargazing on a clear night, themed cruise tours are a great option.
Conclusion
With a good plan and the right destination, you can easily create amazing group tour experiences. Consult widely with everyone on what activities they would love to engage in and what places they would love to see during the vacation so you can plan better and refine your touring itinerary. Also, keep in mind some of these best travel hacks to stay safe when traveling to a new destination.
Staff Writer; George Carter