Should We Surrender the Flag to Donald Trump?
(ThyBlackMan.com) Black Athletes, like Colin Kaepernick and Michael Bennett, are more entitled to the symbols of the United States and what they symbolize than the current, race-baiting president. Colin Kaepernick is probably the most gifted quarterback in the NFL- with no team to call home- because he chose to kneel during the playing of the national anthem prior to "kick-off" of the game to protest the killing of innocent black men throughout America by white police officers. Earlier this month, Bennett publicly accused the Las Vegas Metropolitan Police Department of racial profiling and excessive use of force. "I felt helpless as I lay there on the ground handcuffed, facing the real-life threat of being killed," the Seattle Seahawks defensive lineman wrote, describing his arrest by Vegas police last month. "All I could think of was, 'I'm going to die for no other reason than I am black and my skin color is somehow a threat.' "
It's possible that President Trump thought it all through the night before getting up in the morning of a week ago, telling himself that he would wage a political battle against these and other non-compliant black athletes, and that it would be a good idea. Or more likely, he didn't.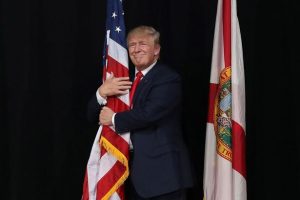 Trump sent two tweets out on that Sunday morning where he called for people to show apathy towards the National Football League, at least until the various team owners enacted punitive measures against footballers who boycott the national anthem. This rounded up a weekend filled with talks of trash and deliberate taunts by Trump. Such statements have now led to a situation where black athletes and anyone who sympathizes may look a little uncomfortable.
Last week was just one of Trump's bad weeks. The Secretary of Health and Human Services appointed by him was caught chartering expensive private jets with public funds. His chosen director of the Environmental Protection Agency is asking the national treasury for an absurd security detail whose size would make Recap Erdogan of Turkey very proud. Also, an umpteenth plan for the repeal of Obamacare fell apart in the Senate. The most famous basketball star of this decade, Stephen Curry, declined an invite to the prestigious White House. CNN reported abruptly that a Foreign Intelligence Surveillance Act warrant was in the hands of the FBI for his (Trump) once principal campaign chief, Paul Manafort, during the campaign. Not to mention the subsequent resignation of the aforementioned Health and Human Services head, Tom Price.
Stirring the Pot
To add insult to injury, Trump has stirred up traditionally conservative Americans. He uses the American symbols, confederate memorials, or just about anything possible to exaggerate his point.
An online opinion poll about standing or not for the country's anthem is likely to be more skewed. Trump, who will go down as the president with the least popularity in the poll's history is always looking for chances to portray his foes in a different light as kind of un-American in this nation's dominant mainstream. Reeling from his defeat in the poll on popularity which took place in November 2016, Trump later demanded via a tweet that those who burn flags should renounce their United States' citizenship. This from a man who routinely and steadfastly refuses to cover his heart during the playing of the national anthem. How's that for a lesson in hypocrisy?
However one comprehends it, as his social skills have gone from bad to worse, Trump is putting more power into his penchant for goading. He is trying to create a situation in which a lot of the most popular and most publicized African Americans appear in large numbers to disregard the flag and anthem. Doing so would add more power to his claim that he and his supporters own these national symbols.
No one would argue against the fact that all Americans, football players inclusive, are entitled by virtue of the same 1st Amendment right he has railed against when his cronies were under the gun doing anything they wanted whenever the anthem was played like sit, kneel or gaze at the skies which is what Trump favors. However, it would be wise for those opposing people publicly exercising their 1st Amendments in a clearly non-combative peaceful display.
Also, they should also ponder on the fact that all Trump's publicized nationalism implies that this government frowns more at subversion, disloyal behavior and hostile foreign interference than any other government in modern times.
The son of the president has embraced the possibility of working with Russian spies in the election of 2016; it is likely that he did much more. The personal businesses and income of the president were apparently protected in the 2008 crises by an injection of some Russian funds. The campaign chief and the former national security adviser to the president both accepted undisclosed amounts of money from sources linked to the Kremlin.
As of now, there is no evidence of a crime. However, the indisputable facts are enough to discredit any of the presidents claims to protect the flag as a symbol and the Democratic Republic for which it stands.
Why Kneel When History is Watching?
In the anthem of the civil war, 'Marching through Georgia', they depict the stars and stripes as flags that give you freedom. However, for a greater part of a century, it was not close to being so. It represented a flag which was hoisted over slave ships up to the year 1808, the colors under which marshals of the federal government implemented the nation's fugitive slave acts before the civil war. The civil war was the only thing that altered the character of the flag. Adam Goodheart was right to note in his impressive 1861 history piece titled 'The Civil War Awakening' that before the civil war, people didn't embrace the habit of hoisting the flag on government and private houses. It took immense amounts of blood from soldiers of different colors, including large sums of African American males, to free the flag from its implications.
More than likely, the defining part has not been completed and may likely not be settled. But it is not enough to allow the President to hoist the flag and anthem every time he gets into a tiff with people of color. An athlete like Colin Kaepernick can stake a healthier claim to the flag its principles, as well the national anthem than President Donald Trump. There is no reason for Black athletes and fathers of Black males in general to forfeit that claim; rather it should be further asserted that we have a right to see our sons grow up to be law abiding adults and not continue to fall at the hands of decadent white police officers.
Thank you Colin Kaepernick for taking the knee heard around the world. This premise has nothing to do with disrespect of the flag, the military or the national anthem as questioned by President Trump, but rather everything to do with dignity and respect undertaken by Black athletes and their supporters utilizing a tool granted and guaranteed by their 1st Amendment rights.
Staff Writer; Stanley G. Buford
Feel free to connect with this brother via Twitter; Stanley G. and alsofacebook; http://www.facebook.com/sgbuford.