Missy Elliott is a the trendsetter, but we still are waiting on album number 6.
(ThyBlackMan.com) Melissa "Missy" Elliott will always be known as a trendsetter in music. Well, in hip hop music primarily. In the hip hop arena, Missy was the first of her kind, combining her rapping and singing skills with pop-friendly songwriting. Her first four rap albums transcended the urban genre, and helped birth the likes of Nelly, Drake, Kanye West in his 808's days and Kid Cudi. On top of that, her first five rap albums went platinum and her sixth and last album, The Cookbook went Gold. So, what could be the reason that Missy hasn't released any solo albums since 2005?
Besides flash-in-the-pan releases over the years, Missy has been working on her seventh album for the last few years. If you think about it, it's the female rap equivalent of Detox by Dr. Dre. Dre's Detox was more a perfectionist trying to make the perfect rap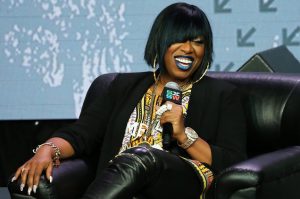 album. But in reality, it's really no telling. When rappers delay their albums, I've always come up with a variety of theories to why they do so. Unless they are touring, there is only but so many ways an artist can come up with money without releasing material, but still be able to live comfortably. Or, maybe they have the money set aside to live comfortably? Let's look at some possibilities.
Ghostwriting
This has been my pick for dope writers such as D'Angelo, Andre 3000 and Missy Elliott for quite sometime. When you're a writer of supreme skill, you can possess the ability to create for others. It's how Michael Jackson, Prince and even Justin Timberlake have ended up on other artists liner notes as writer and producer. But in the case of the aforementioned three, they are, in the words of Erykah Badu, artists and sensitive about their sh*t. So they probably don't want their names associated with r&b/rap/pop records that would go against what their brand stands for. But a nice, one-time fee could take care of that without embarrassment. Elliott probably has written some of the top rap/pop/r&b records behind the scenes for some time. But, that's all in theory.
Burnout
Between 1997-2005, Elliott released six albums. On top of writing and co-producing a bulk of her own records, she also did it for artists such as Aaliyah, Tweet, Monica, Mary J. Blige and Beyonce during that time span. The pressure to deliver publicly is always heavier than the pressure behind the scenes. If you couple that, with pressure for your own records to perform, it can cause easy burnout. Like D'Angelo and Andre 3000, Elliott perhaps got tired of the spotlight and elected to step away.
Concentrating on General Health
In an article with Billboard.com, Elliott spoke on her health issues over the years. Working nonstop, Elliott realized her body and mind needed a vacation.
"Elliott says the last vacation she took before her hiatus was "in mid-2000," and she believes that the grueling schedule took a serious toll on her health. After she began losing an alarming amount of weight in 2008, she was diagnosed with Graves' disease, an autoimmune disorder that affects the thyroid. "It causes hair loss, your eyes bulge," she says. "My blood pressure was always up from just overworking."
Your health is always important and it's great Elliott realized that. But, after the success of "WTF" with fellow Virginia legend Pharrell Williams, no seventh album from Elliott has materialized. So what do we expect from here? We can expect an album by Elliott; not sure when, but hopefully soon. In the meantime, we still have the classics Missy produced to consume with our ears.
Music Editor; Brad Washington
Also connect with this brother through Twitter; http://twitter.com/theGURO15.