Three Things a Faithful Dad Knows.
(ThyBlackMan.com) It's rather easy to make a child but difficult to raise a son or daughter. But through God's grace it can be done, as millions have successfully navigated the turbulent waters. We must be willing and always open to accepting change as dads. We may face potent opposition, but we must not waver. When we accept our power as dads, we become invincible. In the end, faithfulness is the chief ingredient. Once we decide that we are in it to win it, nobody and nothing can stop us.
There are some things we stumble upon, other things we stridently learn and make a part of our everyday governance. If you want to be a better dad, consider these three attitudes that faithful dads demonstrate on a daily basis.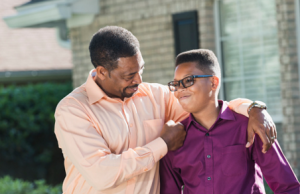 He Gets Back what He Puts In
What are you willing put in? Better yet, what are you willing to pour in to your children? Faithful dads understand the relation of service to reward. A faithful dad may not always have the best to give, but they always give their best. In tough times and in good times, faithful dads remain at their post. He will give and continually give, and the more he gives, the more he will receive. We must pour ourselves into our children – our wisdom, our character, our godliness and our common sense.
The rewards may not always equal the results but at least you have given your best.
He Must Answer to One Authority Only
A faithful dad must operate within a very complex social network; co-parenting obligations; child support where it applies; extended family; school concerns and more all fall within the domain of a dad's responsibility. But in the end, a faithful dad answers to a Higher Power, a power much greater than himself.
He is conscientious enough to understand the words of Matthew 18: 6: Whoever causes one of these little ones to stumble, it would be better for him to have a great millstone fastened around his neck and to be drowned in the depth of the sea.
Our ultimate accountability is to God.
He is Never Out of Resources
A faithful dad uses both his human and fiscal resources wisely; he knows that his resources are limitless because they emanate from within. Real dads are never out of patience, never out of courage, never out of compassion; we apply lessons where they are needed and love where it's appreciated. Lack of resources do not faze faithful dads, they only embolden him.
I can testify to this point personally. There were weekends when I had twenty dollars in my account and the time to pick up my son loomed in front of me. Never did I think about calling his mother and saying I was unable to pick him up due to financial challenges. I kept the faith. Somehow things always worked out in my favor.
It's about believing in what you represent and trusting something bigger. It's about understanding that the best way kids pay us back is "Daddy, I love you." When we train up a child in this manner, they will not depart from it when they are old.
Being a faithful dad means you receive what you put in, you answer to a Higher Power and also knowing that you resources are unlimited because of that relationship.
Staff Writer; W. Eric Croomes
This talented brother is a holistic lifestyle exercise expert and founder and executive coach of Infinite Strategies LLC, a multi-level coaching firm that develops and executes strategies for fitness training, youth achievement and lifestyle management. Eric is an author, fitness professional, holistic life coach and motivational speaker.
In October 2015, Eric released Life's A Gym: Seven Fitness Principles to Get the Best of Both, which shows readers how to use exercise to attract a feeling of wellness, success and freedom (Infinite Strategies Coaching LLC, 2015) – http://www.infinitestrategiescoaching.com.