My First Experience At A Comic Convention – The 2017 Gump City Comic Con.
(ThyBlackMan.com) The story of having my first experience at a comic convention actually started early this year when my youngest brother told me about a comic convention coming to Montgomery, Alabama and my first reaction was pure excitement at the idea of a comic convention coming to Montgomery, Alabama because I have been aware of the comic conventions that have been happening across the country for the past few years from LA to NY.
My excitement for this year's Gump City Comic Con was amplified when I found out that The Original Black Power Ranger in the brother named Walter Jones was also gonna speak at the event. I was a huge fan of The Original Power Rangers back when the show was at its peak in the mid-1990s and Walter's character, the original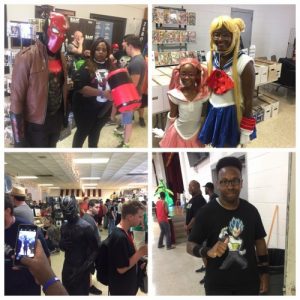 Zack Taylor (my favorite all-time Power Ranger) was such a huge positive role model for me growing up at a time in which most of my older brothers were often hanging out with bad crowds in the streets and going to The Pen on mostly nonviolent drug offenses.
I have seen online videos and pictures of cosplayers, gamers participating in video game tournaments, people selling their comic books they created from their own ideas. And there were also many souvenirs on display and vents in which food, items, and refreshments that were being sold at the event.
Here's a little known fact that many people that personally know me in Montgomery and on social media don't know about me: I am an old school black nerd and have been one since I was a kid growing up on Jackson St. back in the 1990s.
I remember watching those badass throwback Saturday morning kids shows from the 1990s like X-Men and Teenage Mutant Ninja Turtles as well as playing video games on The NES like Mario and Zelda, The Sega Genesis like Sonic and NFL '95, The SNES like Super Punch-Out and Super Metroid, GB/GBC like Pokémon and Dragon Warrior Monsters.
When I arrived at The 2017 Gump City Convention, I immediately saw the huge number of people that turned out for this historic event wearing cosplay superhero, supervillian, and also anime outfits. This event has been such an amazing and electrifying experience for my very first time ever being at a comic convention.
The video gaming tournaments for Street Fighter for PlayStation 4 and Super Smash Bros. for Wii U have been very enjoyable for me to watch and very intense for the participants and two of the participants got disqualified because they didn't show up to participate in their next match and another participant almost got disqualified for going to get a bag of popcorn, how silly of a reason is that to disqualify someone.
My favorite part of The 2017 Gump City Comic Con is when I finally got the opportunity to see one of my childhood heroes growing up in Walter Jones and he was speaking on the stage wearing a nice shirt and cap titled "Black Don't Crack" and I thought the shirt and cap looked absolutely sick on him. He answered questions that fans asked him and he talked about his experiences with racial discrimination starting when he left Detroit and moved to LA, it was in LA he experienced racial discrimination first hand and another experience is when he went to a club one night and he was prohibited from enter just because of his skin color.
And speaking of The Original Power Rangers, a few months ago, I managed to watch the reboot film of the original power rangers and to be honest, I really enjoyed that film because for me, watching that reboot film brought back old childhood memories of me seeing the power rangers open up a can of whoop-ass on the antagonists of the series.
In the reboot film, I liked how they slowly built up Rita's character from a castaway like woman to being more ruthless, dangerous, and badass than the old Rita from the 1990s. I also liked how they explored topics that are considered taboo like sexuality. And then, that new Megazord looked more badass and sicker than the old Megazord from the 1990s Saturday morning TV show (which I didn't like too much by the way because it looked like something that came from an old junkyard). And I also enjoyed how they developed the characters and the team chemistry because I thought they did a very good job with those.
The Conclusion – The 2017 Gump City Comic Con was an event that I will never ever forget because it brought me back down memory lane from my old childhood of being a nerd that always enjoyed playing video games, watching anime, and reading comics and manga.
Staff Writer; Kwame Shakir (aka Joe D.)