The Pro Football Hall of Fame Class of 2017 delivers captivating speeches.
(ThyBlackMan.com) Over the weekend, the Pro Football Hall of Fame gained seven new members. Former quarterback Kurt Warner, former running back LaDainian Tomlinson, former defensive end Jason Taylor, current Dallas Cowboys owner Jerry Jones, former safety Kenny Easley, former running back Terrell Davis, and former kicker Morten Andersen are all now Hall of Famers with gold jackets and gold busts. Each person was presented by a speaker of their choice and was given a period of time to discuss their careers and lives during their Hall of Fame speech.
Many times, former NFL players will discuss their love for football, their families, the difficulty of their journey playing football, and thank all the people who supported them throughout their career. However, this year there were many different subjects broached by the presenters including police brutality, gun violence, slavery, and U.S. immigration. In totality, it made 2017 a unique year of speeches by the members of the Pro Football Hall of Fame Class of 2017.
Former Seattle Seahawks safety Kenny Easley was a hard hitting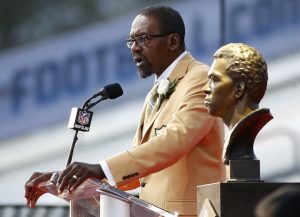 safety who had a variety of health ailments during and after his playing career. During his speech, Easley also discussed police brutality and gun violence saying, "Please allow me this opportunity and this moment for a very serious message for which I feel very strongly about. Black lives do matter, and all lives matter, too. But the carnage affecting young black men today from random violence to police shootings across this nation has to stop. We've got to stand up as a country, as black Americans and fight the good fight to protect our youth and our American constitutional right not to die while driving or walking the streets black in America. It has to stop, and we can do it, and the lessons we learn in sports can help."
The induction of former Denver Broncos running back Terrell Davis into the Hall of Fame was an interesting one because his career was relatively brief for a Hall of Fame caliber player. One of the highlights of his speech was the reaction of his children. An interesting part of his speech was about the relationship with his father and which he said, "When I was 12, my father became ill and until he went to the hospital, I didn't know how sick he was. He was the original iron man. It didn't matter how many times he'd been sick or hurt, he'd always bounce back. But not this time. My father died of lupus when he was 41, and obviously my dad never saw me play in the National Football League. Until this day, I'd think about him and wonder, did I gain his respect? Dad, I hope you're looking down, smiling and uttering the words, 'Son, I'm proud of you.' "
Arguably the most powerful message from the Pro Football Hall of Fame Enshrinement Ceremony came from former San Diego Chargers running back LaDainian Tomlinson. As a player, he ran with passion and spirit and he gave a spirited speech that also discussed slavery. He said, "My name began with the man who owned my great-great-great grandfather. Now it's proudly carried by me, my children, my extended family. People stop me on the street because they know me as L.T. the football player, but after football, people have begun to recognize me as LaDainian Tomlinson, not simply for what I did as a football player but for who I am as a man. The family legacy that began in such a cruel way has given birth to generations of successful, caring Tomlinsons."
LaDainian Tomlinson also broached the topic of immigration by saying, "America is the land of opportunity. Let's not slam the door on those who look or sound different from us. Rather, let's open it wide for those who believe in themselves. … I'm being inducted into the Hall of Fame because my athletic ability created an opportunity for me to excel in the sport I love. When we open the door for others to compete, we fulfill the promise of one under, under God, with liberty and justice for all."
This year, the people who were inducted into the Pro Football of Fame reminded us of the complexity of the men who are part of the National Football League. The athletes who compete in the NFL are fathers, sons, husbands, and human beings. There are numerous guys of questionable and bad character playing the NFL but there are even more NFL players of quality character.
Staff Writer; Mark Hines