O.J. Simpson is in sports limbo.
(ThyBlackMan.com) Approximately 13 million television viewers watched as a Nevada board approved parole for O.J. Simpson over one week ago. Those viewers were fascinated by Simpson as one of the more compelling and controversial public figures of the past quarter century. The highly acclaimed ESPN documentary, "O.J.: Made In America", which examined the life and career of O. J. Simpson, highlighted how Simpson became such a lightning rod because of his college football and NFL career as a superstar, his surprising celebrity as an actor and TV pitchman, and the volatility of his personal life with his former wife Nicole Brown Simpson. O.J. Simpson being accused of murdering Nicole Brown Simpson and Ron Goldman and his subsequent acquittal was one of the most discussed events in America of the past 30 years.
Now that Simpson was granted parole after more than eight years in prison for a Las Vegas hotel heist, there are questions about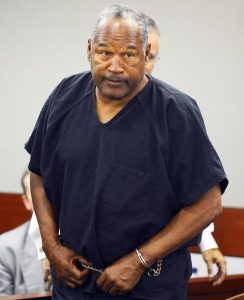 Simpson's future when he is released from prison. While his personal future could possibly include book signings or a potential reality show, O.J. Simpson has a cloudy future with the USC Trojans, the Buffalo Bills, and the Pro Football Hall of Fame, where his athletic feats remain regardless of his public persona.
Before he became a Pro Football Hall of Fame running back, O.J. Simpson had a terrific career for the University of Southern California. He became USC's second ever Heisman Trophy winner after being the runner-up for the Heisman Trophy the year before. Simpson is unquestionably one of the top running backs in college football history and is one of the running backs that will always be mentioned in the excellent tradition of USC running backs along with Charles White, Marcus Allen, and even Reggie Bush. However, when Simpson leaves prison he will not be going back to college as current USC football coach Clay Helton said the former Heisman Trophy winner would not be welcome on campus. This news isn't too surprising because the university distanced itself from Simpson after he was found not guilty of murdering his ex-wife.
During his eleven year NFL career, O.J. Simpson had his most success as a member of the Buffalo Bills. He became the first running back ever to run for 2,000 yards in a season and he put together some prolific seasons before his retirement. The Buffalo Bills organization does not promote O.J. Simpson in a way you would expect a NFL organization would promote one of its greatest players in franchise history. When you visit the Buffalo Bills online shop, you can't buy any O.J. Simpson related items. However, Simpson remains on the Buffalo Bills Wall of Fame. The overall relationship between the Buffalo Bills and O.J. Simpson is a complicated one.
The Pro Football Hall of Fame appears to be the only way for Simpson to be welcome regarding his sports legacy. Hall of Fame officials have said O.J. Simpson will remain an annual invitee to the Pro Football Hall of Fame enshrinement ceremonies after his release from prison if any parole restrictions related to travel are lifted. It is questionable if it would be a good decision by Simpson to make an appearance at the Pro Football Hall of Fame given the large amounts of crowds that appear there regularly. O.J. Simpson is a man without a sports home.
Staff Writer; Mark Hines