Why the "Chief Wahoo" logo isn't just a Native American problem.
(ThyBlackMan.com) Major League Baseball is coming off an entertaining Home Run Derby and a competitive All-Star Game. The future of Major League Baseball looks bright with plenty of young talent all across the sport. However, the game of baseball still has flaws that it continues to work out in terms of the pace of play and marketing to sports fans who are accustomed to the high-energy and intensity of professional and college football. Another underlying issue that baseball has had has been the controversial "Chief Wahoo" logo that serves as the logo for Cleveland's professional baseball team. The logo has been addressed by Major League Baseball Commissioner Rob Manfred who mentioned days ago that a "Chief Wahoo" resolution about its future is not likely until after 2017 season.
One of the most divisive and contentious topics in sports is the use of Native American imagery in sports. The NFL's team in Washington D.C. and the baseball teams in Cleveland and Atlanta receive a lot of the coverage about whether the nicknames and mascots of their sports teams are racist and derogatory. In Cleveland, "Chief Wahoo" is the logo that has caused so much discussion. The logo is a redface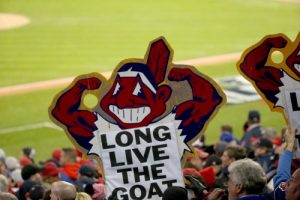 cartoon caricature of a stereotypical American Indian face complete with headband, feather, and wide smile. Native Americans have been protesting the logo and the name of the Cleveland team for decades now in public and through the legal system.
Last year, an advocate for Native Americans filed suit in Canada in front of the Ontario Human Rights Tribunal and the Canadian Human Right Commission to prevent the Indians from showing their name and logo in Canada. A judge rejected the case. Although it might seem as if this issue is an "Native American" issue, there is reasons why other people should join the fight against racist sports logos and mascots like "Chief Wahoo".
Prior and during World War II, there were plenty of racist images that Americans were exposed to that depicted the Japanese as dangerous and un-trustworthy. Those images were depicted through cartoons, posters, and comics to influence people psychologically into fearing the Japanese and to develop a negative perception of them. African-Americans are keenly aware of how imagery can be used to stereotype and turn a group of people into caricatures.
During the 19th century, fictional characters like the Buck and the Pickaninny were blackface characters that were created as racist stereotypes of African-Americans. Each character had specific set of characteristics that displayed negative stereotypes about African-Americans. Those characters were used in television, cartoons, movies, and other pop culture to show that African-Americans were inferior. Native Americans are facing similar depictions in regards to "Chief Wahoo". More importantly, the racist image of characters like "Chief Wahoo" have been studied as has having a negative impact on the social identity development and self-esteem of American Indian young people.
This importance is further emphasized by organizations like Not Your Mascots, which is dedicated to addressing the misappropriation of Indigenous identity, imagery and culture. The mascot issue in sports is not just a Native American issue.
Staff Writer; Mark Hines