Proven Tactics For Developing Yourself As A Leader.
(ThyBlackMan.com) Any organization would be lost without good leaders. If you're hoping to develop your career, whether you're grinding towards a specific goal or not, developing yourself as a leader may well be essential. The most well-respected leaders have the ability to lead from anywhere; whether that's behind the desk in a large, executive office or in the trenches, alongside their team. Contrary to what a lot of people think, good leadership isn't something that you either have or don't. There are various effective ways anyone can develop themselves as a leader. Here are just a few proven tactics.
Be an Active Listener
It's only the worst leaders out there who do nothing but dish out orders and instructions, and never stop to listen to others in their organization. A good leader knows that although they may be good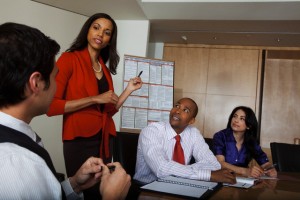 at what they do, they don't have all the answers. They need to be open to suggestions, and aware of the fact that their personal success depends on the people around them. One great habit you can use to develop yourself as a leader is active listening. Focus on the individual who's speaking, and tune out any distractions as best as you can. Ask questions, rather than letting anything you don't understand pass you by. At the end of every conversation you have, make sure you'd be able to repeat what the other person meant.
Keep on Learning
As we mentioned in the intro, great leaders are made, rather than born. To be the best leader you can be, you need to be constantly studying, training, and developing experience in every aspect of your professional and personal life. There are certain ways you can do this focussing specifically on leadership skills, for example enrolling in an online master in curriculum and instruction program. However, you don't want to become too zeroed-in on leadership alone, and let all the other aspects of your professional performance suffer. Whatever it is that you could be working on, you need to be attacking it in any way you can, with whatever spare time you have. When you're constantly looking for opportunities for new experiences and developing new skills, leadership qualities will naturally follow.
Get Better at Collaboration
Another important skill for any good leader to have is collaboration. In any successful business, executives need to be able to collaborate, get creative, and find compromises with managers and employees in order to get the best possible outcome.  Good collaboration means being able to analyze situations critically, and honing in on conflict at a higher level of the organization, where shared goals can be clearly defined, and everyone's commitment to work can be helped along. Through cooperation in problem-solving situations, collaborative leadership helps a whole team to learn, develop, and find the common ground that keeps a business moving forward.
Manage Conflict
Sadly, conflict is a natural, and often unavoidable off-shoot of any human interaction. We all have differences in perceptions, knowledge, and decision-making processes, and these differences often come to the surface when we're communicating with others. Communication won't go awry, provided that any disagreements can be managed in a constructive way. When simple disagreements boil over into conflicts, it often leads to defensiveness, which in turn presents a serious strain on communication. If it's not turned around quickly and effectively, all communication will grind to a halt. When you see conflict on the horizon in any professional situation, one of the most important things to remember is to avoid pointing fingers. Instead, keep your attention focused on the given behavior or situation, and not the person who seems to be the cause of it.
Take Responsibility for your Mistakes, and Learn from Them
Anyone who habitually passes the buck once they make a mistake is never going to be a good leader, although these kinds of people often make it into senior positions! If you make a call with the company or team's best interests at heart, and it comes back to bite you, you have to face the music. Following every mistake, you should also make a point to treat it as a learning experience, rather than just a plain and simple failure. Pin down the point where your decision went awry, find out the root of it, and make a point to avoid this kind of mistake in the future. If you just beat yourself up about it, you won't develop yourself at all, and will leave yourself at risk of making the same mistakes time and time again!
Staff Writer; Carl Ross