Stepping Out Of College Into A Successful Career And Life.
(ThyBlackMan.com) Congratulations on successfully navigating your way through the college process and coming out qualified and ready for what life has to throw at you. However, you need to start putting a few plans in place now, so that you can secure a happy and vibrant future as a working citizen. The following are some tips and helpful ideas to get you on the right track to a successful working life; if you make wise choices, the sky's the limit!
Make Getting A Job Your Priority
The hard work and qualifications you achieved as a student will now be able to help you on the next step of your life's journey. If you have just completed a degree in college that's related to your chosen career path, then you're already off to a great start. However, the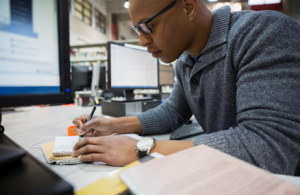 hard work does not stop here; if anything, this is where it all begins, so be prepared to make getting a job your full-time role until you've got one. Check out The Ultimate Interview Guide: 30 Prep Tips for Job Interview Success to learn how to ensure your interviewer becomes your future employer.
Make sure you are looking into all avenues when it comes to finding work, and be prepared to intern to gain valuable experience; even if it doesn't lead to a job there, you'll have more to add to your resume which will attract potential employers. Dress the part and be ready to go to your interviews at a moment's notice; you'll need to do whatever you can to stand out from the other applicants.
Get Your Finances In Check
Now that you've taken your first step on to your career ladder; you'll need to start figuring out the other elements in your life. Your income and savings will play a major role when it comes to buying your first property and any future plans, like family and travel, that you might have; so get a tight grasp on them as soon as you can. You can start by taking a look at The Ultimate Guide for Resolving Your Student Debt to figure out how long it will be before you are debt free and to gain a better understanding of where to allocate your incoming money.
Seeking professional advice on working out how much you can save for the future each month will make it easier to set yourself valuable life goals, and you'll know when they'll be coming your way. You'll still want to enjoy life; you're young after all. However, putting wise financial plans in place now will ensure a successful and comfortable future for yourself, and for any dependents, you might have along the way.
Push Forward And Pursue Your Goals
Never stop striving to improve and to achieve more; if you settle too soon, you could miss out on an array of exciting life opportunities and all that life could offer you. Keep working hard, say yes to great offers, and dream big when it comes to your future; your career can provide you with an exciting and fulfilling life, especially when you've made smart choices and you've kept making smart choices.
Staff Writer; Peter Love