Where Can I Find and Listen to NY Underground Rap?  
(ThyBlackMan.com) NY has some amazing places in it that wouldn't be as much fun if everyone knew about it. The second a mainstream magazine does a story about something cool that's happening without the help of a corporation, the second it becomes swamped with people who may not really understand what it's all about. This has certainly been known to happen with underground rap, in that it's meant for a certain niche of people. If you're seeking it out on your own, you're probably one of those people! Find out more about where to find it, and how to listen to it.
The Vibes of New York City
Some underground rappers want to become the next Drake, but some just want to spit their rhymes to anyone who will appreciate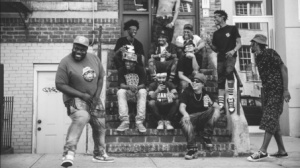 them — regardless of whether or not they get famous. It's not worth trying to decide where hip-hop is going based on what you see and hear when you read up on the scene, because rap goes where it wants to go. It is worth trying to understand the common thread that holds the underground rappers together though.
Saving Money When Getting There
Getting out to see NY underground rap won't be as difficult when you feel completely confident on the road. How do you feel confident in a city full of pedestrians and hikers who refuse to look where they're going? Well, part of it is learning defensive driving NY, and then refreshing yourself on its principles again and again. Avoiding an accident isn't impossible when you know what to do, and a defensive driving course can teach you everything you'd ever want to know about how to stay safe in even the most stressful of driving situation. Every driver could use a little help when it comes to doing a better job at staying calm and keeping their head on straight, especially in a city as chaotic as New York. However, if that does little to convince you, remember that your auto insurance carrier may give you up to 10% off on your insurance premium for the next 3 years as a thank you for being safer.
The Clubs
BB King Blues Club and Grill, Brooklyn Bowl, and Santo's Party House are all places to check out to see some underground rappers. Just make sure you call ahead, as these spots are known to book a variety of musicians. Names like Marlon Craft, Kemba, and Don Mykel may not mean very much to you right now, but they may just become your new favorite after catching them on a night out. That's the incredible thing about heading out to different clubs in your area of New York City, you really don't know what you're going to find. You will find out the answer to, "Can I travel with my driver license?" The talent that congregates here can be truly breath-taking, and there are few better things than discovering that talent first-hand for yourself. Even if your first nine trips don't unearth your new favorite artist, that tenth trip may end up being the one that goes down as legend in your life.
Out on the Town
Don't dismiss people in subways (or the actual underground) or those who are on the street corner. If you like rap, then take the time to listen to them. Take their CD when they offer it you, and go home and listen to it. Every rapper was a nobody at one point, and they wouldn't have gotten anywhere if people didn't give them a chance. Even if their sound is rough around the edges, look for the core talent and you won't be disappointed.
Staff Writer; Steve Hall