The 3 Qualities For Any Interview.
(ThyBlackMan.com) When you are looking for work, one of the most important parts of the whole process is the job interview itself. This is something that people often find themselves worrying about for a long time before it happens, and it is easy to see why. Interviews can be quite daunting, even if you have a lot of experience with them and in the field of work you are looking into, and you never quite know how they are going to turn out. The truth is, there are a few key qualities which are usually necessary if you want to succeed in an interview. Let's take a look at what those are now so that you can have more chance in your next job interview.
Confidence
A lot of people make the mistake of thinking that confidence is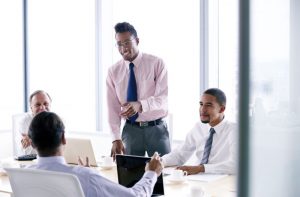 something you either have or do not have. However, this is not true. In actual fact, confidence is something that anyone can develop given enough time and willingness to do so. If you feel that you could do with more confidence, then the only real way to ensure that that happens is to practice it in as many settings as you can. Of course, it might be particularly helpful if you practice within a job interview setting, as this is what you are trying to master. The more experience you have, the more likely it is that you will be confident when you have your real interview.
Presentation
There is no doubt that you need to look your best for an interview – but it can be quite difficult to figure out exactly what that is. For most people, it is a case of ensuring that you are dressed as well as possible. Always be sure to wear your smartest clothes for an interview, unless it is something where you feel that a semi-casual look is best, as is the case for certain professions and industries. For men, it is a good idea to ensure that you are clean-shaven in order to look as presentable as possible. Using a resource like Manly Matters should help you to find a razor that really works for that situation. You should also be sure to be as clean as possible on the day, as this also makes a noticeable difference.
Engaging
Something that you really can't do without is the ability to be engaging. Whoever you are talking to, you will need to do your best to keep them captivated and fascinated in whatever you are saying. Otherwise, you might find that they soon lost interest in you, and that is the last thing you want. If you feel that you need a little help with how to be engaging, it might help to have practice with carrying out interviews. People skills can only be improved upon by practising them, so make sure that you do just that if you want to maximise your chances of interview success. With any luck, you will land that ideal job in no time.
Staff Writer; Greg Love