Several Reasons Why Many Relationships And Marriages In The Urban Community In America Have Declined Today.
(ThyBlackMan.com) Back in the day when I was coming up, relationships and marriages were about trust, love, honor, respect, admiration, weathering out the storm, and staying committed to one another.
These days in the urban community in America, a very disturbing trend has become very common amongst young urban millennials in particular: It's "cool" to just have irresponsible sex and not be committed to one another by being fed very toxic and destructive messages from parasitic capitalist corporations everyday from their radio stations.
Intro: Here are several reasons why many relationships and marriages have declined in urban communities across America today.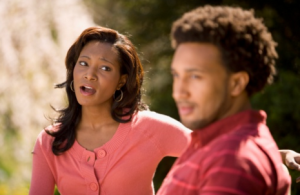 1. Mass Incarceration – Over the past three decades, the mass incarceration epidemic has greatly crippled our community and also affected many sisters mainly because they are having a hard time finding good, quality brothers to settle down and form a family because many of them are systematically incarcerated because of draconian sentencing guidelines for mostly nonviolent drug related offenses.
2. Corporate Sponsored Bastardized R&B Music Of Today – Back in the day, old school R&B mostly promoted and encouraged brothers and sisters to find true love, stay committed, settle down and have a family.
But nowadays, much of R&B has become just like today's corporate hip-hop is: destructive trash that promotes and glorifies sexual irresponsibly as well as not being committed especially never getting married when you hear lyrics on corporate radio stations from artists like controversial R&B bad boy Chris Brown from "Pull Your Panties To The Side" to "These Hoes Ain't Loyal".
3. Lack Of Substance – One of the main reasons why many relationships and marriages in urban communities across the country fail is because they don't have what it really takes to develop positive chemistry and substance anymore because in many cases if one of the parties disrespects, steals, deliberately cheats, physically harm, or angers the other party, it's basically over.
So therefore, there's clearly the total lack of positive chemistry between both parties that are needed to not only make the relationship/marriage work, but also ensure that they're truly committed for the long term.
4. Not Being Committed For The Long Term – There are many people in our community who don't believe not even like the idea of being committed in a relationship or marriage for the long term because they only see them as temporary rides to "happiness and a false sense of financial security". In a lot of cases, one party instantly becomes tired of the other party for whatever reason and automatically call it quits.
The Conclusion – It's also time to rebuild the value and importance of relationships and marriages in our community so that the kids can grow up with not only a mother, but also a father in the home as well.
Staff Writer; Kwame Shakir (aka Joe D.)