#BlackBoyJoy
(ThyBlackMan.com) In case you haven't noticed, we've been living in a special time; a time where it's perfectly fine to be unapologetically black all while expressing exactly who you are in doing so. Now excuse me as I quote DJ Khaled as a reference because "they" definitely don't want you to be this way. This is also a world where lines don't always have to be read with a hard exterior and the walls of fraudulent gangsterisms are being torn down. Insert the hashtag #MasculinitySoFragile; the term created by black twitter millennials shouting to the masses, "get over things being presented as macho all the time".
Of course, that was way after #BlackGirlMagic; the golden coined phrased to best describe the glorification and accomplishments of all our queens?—was/and arguably still is in its prime. So here we are with the same thing as it relays to black men. They are being who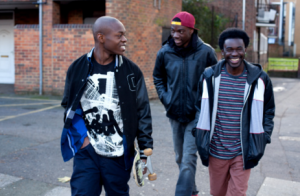 they are, making power moves, and don't have a problem smiling big about it. This image of joyous black boys and men is what you call #BlackBoyJoy.
The hashtag took off last year when Chance the Rapper tweeted a photo of himself with the uplifting message in August. Since then, many Black boys and men have adopted it to express moments of happiness in a climate clouded with constant threats to Black male life due to police brutality.
The black community's desire for equality and basic human rights has been clear from the beginning. However, we cannot be agents of change in a social justice movement that does not acknowledge how our work builds, complements and lends itself to similar movements of equality. The thread among carefree black boys is our race, and across the black spectrum, we all have needs that must be addressed.
As black men, one knows anger and pain better than most people on earth; the coupling infliction of triggering events through social media and the real-world can take a toll on the ability to persevere. This denotes the importance of being intentional about caring for one another and knowing when to step away and find what brings you joy. By no means should you disconnect yourself from the movement we need all the people we can get, but finding a balance between activism and preservation has sustaining power in the fight for justice. To affirm the great Audre Lorde, "caring for myself is not self-indulgence, it is self-preservation." Preserving joy and happiness is vital to the revitalization and a political act of warfare.
These tools are in no way an exhaustive tool for equity. Community is everything and supporting each other as black men in a larger movement is a necessary function we must emphasize. Until then, exist as a carefree black boy. It shows, they show you that #BlackBoyJoy is a thing, it's here, and it's staying so for as long as these guys are around to give it life. Who knows, they might even be plugging the mind of someone next up as we speak.
Staff Writer; Amber Ogden
One may also view more of her work over at; AmberOgden.com.
Also connect via Instagram; 1amberogden and Twitter; MsAmberOgden.