Eminem: White Hype or Legend.
March 18, 2017 by Staff
Filed under Uncategorized
(ThyBlackMan.com) Eminem is considered a legend by some, just a good rapper by others and some even consider him merely white hype. When the subject of hip hop legends is brought up we tend to see some of the following: Rakim, Nas, Jay-Z, Ice Cube, Snoop Dogg, Scarface, OutKast, UGK, Tupac, Biggie, and the list goes on. For some Eminem, who hails from Detroit, is a definite on the list.
From it records, to street credibility, to production even signing artist such as 50 Cent many don't question the legend status of Eminem at all. We have w to concede he does have bars, and great word play. When he wants to he can tell a story over a hot track with the best of them. However, to some he's a very good rapper…just not a legend.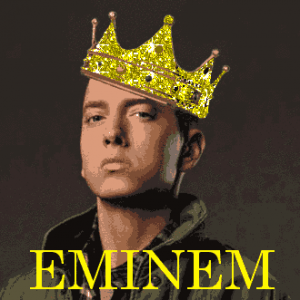 Some would argue that legends are larger than Life because? they change the game. In a sense they embody a part of the black music experience through hip hop. This isn't to say a white rapper can't become a legend but it can be argued they can't do it from outside the culture. Let's be real this isn't an argument for record sales. Those that argue against Eminem as a legend feel he's really one tracked…and vocabulary covers lack of diverse content.
There were others that couldn't get over him going at his mom on wax…I guess they figured "Dear Mama" by Tupac is the standard for addressing mother's that weren't perfect. That may be just a bit petty…but that's one perspective some feel cuts him from the legend list. Furthermore, listen to an Eminem album every track…on repeat…not going to happen here. Eminem has to be taken in doses sometimes. Album? play is subjective, and to be fair every legend has albums that has to be taken in doses.
I will say this…Eminem is not, nor has he ever been, white hype. He has earned a place on hip hop. He has bars, and he can hold his own in a battle. Whether he's a legend, or not, will always cause an epic debate. He has my vote as a prominent part of hip hop, but not as a legend. Granted my bar for legend status is extremely high.
Staff Writer; Adonicka Sassy