Time to Get Healthy Brothas': A Black Man's Guide to Good Health.
(ThyBlackMan.com) Brothers, be honest. How often do you go to your doctor. Well maybe this will change your mind.
African-American men are 30 percent more likely to die from heart disease than White males
36 percent of Black men are obese
3.7 million of all African-Americans 20 or older have diabetes
Ready to make that appointment now? Here are the important screenings you should have according to your age:
Ages 20-39
Weight and body mass index (BMI)
Approximately 2 of 3 adults are now overweight or obese, which can increase the risk for heart disease, stroke, high blood pressure, diabetes and other ailments, according to the American Heart Association. Just because you're in the gym regularly doesn't mean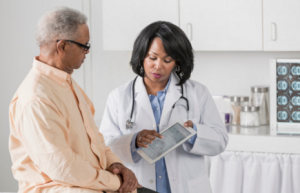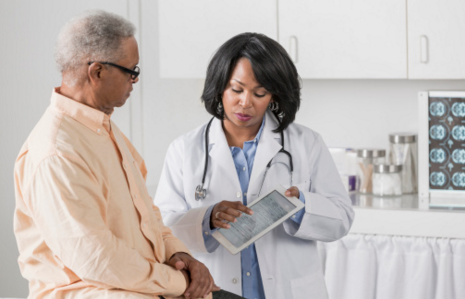 you're at a healthy weight or BMI (which is 18.5 to 24.9). "The misconception that many Black men have is that because they exercise and have muscles they don't need to worry about their weight. That's not true.
If you've been exercising regularly and still have trouble loosing weight, your diet probably needs help. Try preparing your meals at the beginning of the week, or substitute meals with a replacement shake.
Blood Pressure
40 percent of Blacks have high blood pressure, which also is known as the "silent killer" and can lead to heart disease and stroke. Having your pressure checked regularly is imperative. According to research, high blood pressure is more prevalent in Black men than in Black women.
Sexual/Reproductive Health
Doctors may also screen your testosterone levels. If you are trying to start a family and having trouble, a male infertility test may be recommended to examine your sperm and seminal fluid.
Cholesterol
High cholesterol increases your chances of heart disease, stroke, and other life-threatening conditions.
AGES 40-49
Colorectal Cancer
According to the American Cancer Society (ACS), colorectal cancer is the third-most common cancer among African-Americans. Death rates are 52 percent higher in Black men than White men.
Blood Glucose
The American Diabetes Association says African-Americans are 1.7 times more likely to have diabetes than Whites. If you have high blood glucose levels, you're at a greater risk of developing insulin resistance, prediabetes and type 2 diabetes. If left untreated, diabetes can lead to heart disease and stroke.
Prostate Cancer
According to the Prostate Cancer Foundation, Black men are more likely to develop prostate cancer than White men and are nearly 2.4 times as likely to die from the disease.
AFTER 50
Echocardiogram (ECG/EKG)
An ECG is a simple, noninvasive test that measures electrical activity from the heart and can predict coronary heart disease. It allows you to see things that suggest the presence of heart disease, such as an enlarged heart, evidence of clogged arteries, or electrical problems in the heart that can forewarn a heart attack.
Bone Density
The painless test helps estimate the density of your bones and your chances of breakage. It also can diagnose osteoporosis before a fractured bone occurs.
Immune System Health
Regularly taking a probiotic supplement is a great way to prevent illness and stay on top of your overall immune system health. If you get sick often, you might want to get checked for autoimmune disorders like Celiac disease or Rheumatoid arthritis.
Lung Cancer
Lung cancer is the leading cause of cancer deaths in African-Americans, and Black men have a higher rate than White men. The ACS reports that when detected at a localized stage, the five-year relative survival rate among Blacks for lung cancer is 47 percent.
Make your appointments fellas!
Staff Writer; Amber Ogden
One may also view more of her work over at; AmberOgden.com.
Also connect via Instagram; 1amberogden and Twitter; MsAmberOgden.