Eddie Long: Booty Bandits And Predators Exit The Pulpit!
(ThyBlackMan.com) The title of my article seems both rough and judgmental. But by now those of you who read my articles know that I can factually back up what I say. I am in Atlanta not too far from New Birth Missionary Baptist Church where "Bishop" Eddie Long set up a program for boys without fathers then sexually molested as many as he could get his hands on. Many of you may remember the scandal from news media reports a while back. then it suddenly went away because the victims were paid a lot of money (reportedly millions of dollars) by the church's insurance company.
New Birth Missionary Baptist Church was both responsible and negligent because the top people knew what was going on. that in part is why Rev. Bernice King jumped ship when the Eddie long scandal hit the fan. Much of what I am telling you now is from insider contact sources and very reliable so if you disagree, too bad. While I usually do not write such hard articles against an individual, our people need to stop sugarcoating booty bandits and pulpit predators, especially when doing so protects criminal predator pedophiles who say they represent God. We need homosexual, bisexual and any other type booty bandits out of the pulpit. Their lifestyles are contrary to the teachings of the Word of God.
Men and women who proclaim themselves as leaders of the church and say they speak for God should be held to the highest stands – and being human is no excuse for blatant, intentional sin. They put themselves out there, they often exalt themselves and they say they know the Word of God so well. I remember when they wrapped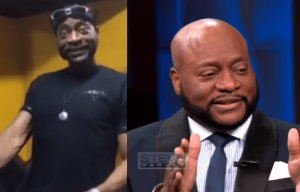 Eddie Long in a Jewish scroll, lifted him on their shoulders and carried him around in the sanctuary like he was a "god". It was not just a demonstration, it was an exaltation of a false minister.
See the false minister and all his gullible followers for yourself below.
https://www.youtube.com/watch?v=AVkoQHCXSK8
Wake up people. We do not set the standard for evaluating those who inhabit the pulpit, God does – and often they exalt themselves. If you think I am judging, read your Bible to find that God has already provided both tests and judgments regarding fake ministers, false prophets and false teachers who come in His name. But they slip by and slither into the pulpit because the people who say they know God's word won't hold these charlatans accountable. People stop being so gullible and wake up.
I Corinthians 5:9-13 says not to even associate with people who are sexually immoral. And if they are in the church, we are to expel them (kick them out), not just pray for them or ignore their behavior.
I simply say what the Bible says. It is sad that so many of our people could not spot a false minister if their lives depended on it – and their spiritual lives might. It's sad that so many of our people refuse to believe the truth yet make excuses for those who are clearly guilty of deliberate sins that impact so many lives. Stop making excuses for the pulpit pimps, "profits", predators and booty bandits who take advantage of young boys, vulnerable women and clueless congregations. Don't protect them.
Christ called out those who were not of God and the Apostles did the same (Matthew 23:15, 23:24). But all most of you want to do is say "pray for him and don't judge". Church follow all the examples Christ set for correction, rebuke and exposing false ministers, not just the soft ones. Today church where is your backbone? You can't rebuke the world because you won't even correct those crooked leaders within the walls of the sanctuary. Stop falling into the ditch with the blind who are leading you off a cliff.
I have no sympathy for Eddie Long and I am relieved for his wife who wanted to leave him anyway after he molested all those young African American boys. He went right back in the pulpit, spoke for 30 minutes and never said he did not do it. The Bible says a Bishop must be blameless and Eddie long of New Birth Missionary Baptist church did not qualify. A Bishop must be the husband of one wife and over several years Eddie Long had various wives. But God has taken care of all of that and woe unto you who stood with, protected, promoted or respected Eddie Long.
They are saying Eddie Long had cancer but don't believe that. His lifestyle caught up with him and he likely had AIDS, not the cancer they are using as a cover up. I would not be surprised if someone over there did not leak the truth this year. Long's wife likely knows the truth. But it is also likely that she was threatened or paid off to stay with him and keep quiet. Remember she wanted to leave then suddenly cancelled her plans.
Eddie Long Victims:
https://www.youtube.com/watch?v=6MEhBY9p1EQ
https://www.youtube.com/watch?v=V45rxXyANHw
https://www.youtube.com/watch?v=Vdwvvkvvh3I
Eddie Long was a pretender and a predator who misled God's people and played with God himself. His lifestyle was contrary to what he said he believed and appeared to promote. Spiritual pride, ego and materialism along with his nature as a predator prove that he was no man of God. Yet a ton of clueless people listened to him, followed him and promoted him – even after the pedophile scandal. And because of his clout in Dekalb County, Long was never prosecuted criminally. But connections to keep you out of trouble do not mean you are innocent. People you don't pay out millions of dollars when you are innocent. And all those ministers who protected Eddie long like Pastor Woodrow Walker, Bishop Jakes and Pastor Creflo Dollar, you protected the synagogue of Satan, not God's anointed.
I have copies of 3 of the lawsuits filed by the victims of Eddie Long. Furthermore, over a decade ago I counseled one of his victims before the scandal even came to light. I would give you the details if I could, believe me. But counseling content is confidential and the young man was not a minor by the time he spoke with me. Yet the victim I speak of was in addition to those who filed civil complaints against Eddie Long and there were others who kept quiet. When did Christ and the Apostles keep quiet like that?
To all of those who continued to follow booty bandit Eddie Long, excused him or supported him, you are as dumb as a rock. He never admitted what he did and you can't repent if you don't admit the sin. He was a false minister and not a man of God. Long said he was healed and that was not true either. Stop making excuses for those who mislead you. Stop drinking the Kool-Aid. stop following men instead of thinking for yourself, studying for yourself and trying the spirits to see if they are of God (I John 4:1).
If you challenge this article – good. If you disagree with this article, at least you read it and hopefully you are now awake more than you were before. Don't be a zombie. If you support pulpit pimps and refuse to correct or rebuke them, you are no better than they are. If you just want to stick your head in the sand, you are likely one of their first and easiest victims. Wake up!
Never let any man or belief system cause you to turn off your brain. While it is certainly OK to support great causes, good pastors and sound doctrine, you have to spot and expose the fakes just as well. and we all must make a clear distinction between the errors of imperfect men vs the deliberate sinful lifestyles, deception, snakes, pulpit pimps and charlatans in our midst. The Bible tells us to do just that and how to do it. So study for yourself, do your homework and keep your eyes open.
Staff Writer; Trevo Craw