Chris Brown & Soulja Boy Beef: We Don't Have Time for Foolishness.
(ThyBlackMan.com) We have so much to consider as a collective community. Our kids need us to fight for their right to a competent education in a safe environment. We have a President that is about to be sworn in that does not carry our interest at all. He has appointed an Attorney General that has a past laced with the support of racial injustice. There are so many issue for us to face as a people but some of our young men with influence choose to live like none of the above mentioned applies to them. While they are having temper tantrums and making a fool of themselves the world has become a crucial place. The worst part is many of us entertain the madness via social media claiming it's just entertainment. I have to disagree…some of our people are feeding their minds and spirits garbage. If there is the case how do they expect to be useful to movement.
So may be asking what is she talking about. Let's take a look into the foolish world of Chris Brown and Soulja Boy. First and foremost, it seems these gentlemen have fallen out over comments on an Instagram picture. If Chris Brown felt it was out of line, and he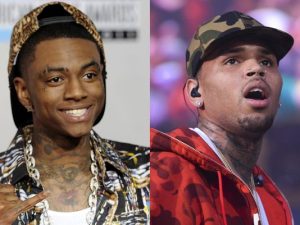 considered Soulja Boy a friend, why not call and talk to him like a mature adult verses throwing a temper tantrum. This mess is ridiculous and they seem to have no regard for their dignity. Yes, I heard about the charity boxing match. Doing for the sake of charity is always a good thing, however they had already embarrassed themselves. When will we learn that making money off of foolishness hinders a people. I disagree that money is money…all of this has consequences.
We cannot expect others to take us serious when we display public foolish behavior. It seems as though discretion is lost on this generation. While they are trying to protect their ego their manhood can be brought into question. Chris Brown has a daughter and the woman in question is an ex-girlfriend. Brother where are your priorities. Parenting your daughter and developing your craft should take center stage. Both Chris Brown and Soulja Boy could be more productive. However, they are too busy trying to be gang members and having temperamental it's while so much within community needs to be done.
Someone may read this and agree saying to themselves shame on these two. Yes, but the question is did you entertain it? We must learn the difference between foolishness and entertainment. Our country, hence our community, is in a very crucial state. Entertainment is cool, but making a fool of one's self is something we cannot afford. At some point we must hold each other accountable for how we behave…especially when it spills into the public. Let's just put it out their social media is the public. We don't need to try to shoulder a movement with a small percentage of our people. It is important for as many of us as possible to use our gifts and talents to advance our place in the world. I hope these two young men come to themselves, and I hope those of us that condone the madness stop. We just don't have time for this.
Staff Writer; Christian Starr
May connect with this sister over at Facebook; https://www.facebook.com/christian.pierre.9809 and also Twitter; http://twitter.com/MrzZeta.