LGBT Busting Hell Wide Open?
(ThyBlackMan.com) In light of the growing perversion of LGBT and those courageous enough to speak about it, this matter warrants close biblical examination. Click the link to hear the presentation by Kim Burrell. It was not a "homophobic rant", it was exactly what God says in the Bible and Kim did not write it.
LGBT is open rebellion against God. People simply want to do what they want, reject the truth and condemn anyone who speaks the truth to them. This is clearly rebellion. God said be fruitful and multiply and certainly that cannot naturally happen if you are LGBT. They can adopt but the scripture was not saying be fruitful and multiply through adoption. Adoption can be a great thing for so many foster children but it is not a substitute for following God's directive to be fruitful and multiply.
No God did not make you LGBT. If God did, it would be hypocritical for God to speak so much against such perverted behavior in His word. If God made you LGBT, you would be in the minority of the humans on the planet and all the species of the entire world. If God made you LGBT, He would not have clearly defined roles for men and women in scripture as uniquely different.
What about the message of Kim Burrell? The Bible commands those of us who are spiritual to correct or seek to restore those who have fallen and clearly the Bible points out that sexual perversion is a falling away from what is right. Some say Kim was too harsh, but I suggest they go and study the difference in scripture between correction, restoration of a fallen believer and open rebuke of those deliberately rebellious against God. You will find a much more harsh tone used in scripture by everyone from Jesus to Moses to John the Baptist to Paul when it comes to rebuking those deliberately walking in rebellion to God.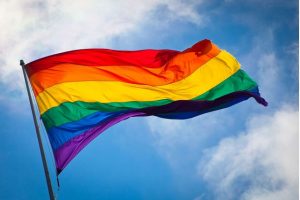 WE ARE NOT TO HATE ANYONE! BUT WE ARE NOT TO LOVE NOR ACCEPT ANY SIN
In such case, Kim Burrell was on point. She was right to call out pedophile predator Eddie long. She never even mentioned LGBT but the LGBT community heard the Word of God and it hit the nail on the heads of their hearts. She is being judged and condemned by the LGBT community in the very same way they do not want to be judged and condemned for their behavior. That is pure LGBT hypocrisy. All too often people do not want correction at all. And when they do want correction, they want it in whatever way is palatable to their taste. But God is not about catering to your taste nor mine. And righteousness sometimes must come to all of us as hard, bitter tasting medicine. Thus if you don't like it, too bad. But you will dislike the results if you do not turn from the sin even more.
What about us judging the LGBT community? We are not to hate anyone so this is not hate speech, it is the Word of God. We do not judge in and of ourselves but God has judged men sleeping with men and women sleeping with women directly and sufficiently. Thus to stand with God's judgment is not the same as offering our own. People who do not want to hear the truth often purposely confuse the two. Then there is the issue of tolerance. What person in their right mind tolerates what they know is not right? We do not have to tolerate being around LGBT, the promotion of it nor our children being taught to accept blatant sin.
The Bible states that in these last days people will refer to good as evil and evil as good. LGBT people are quick to label those standing with God as "homophobic". But we are not afraid of homosexuality and sexual perversion. We simply see it for what it is – a sin of perversion, rebellion against God and a sin against the temple itself (the body). It's both ironic and hypocritical that the LGBT community refuses to see our side (the Biblical side), yet they want us to see theirs. It's ironic that they want to say we are hateful, yet they condemn us for not accepting their behavior. It's hypocritical that they want to be respected for their beliefs but they refuse to respect us for ours.
LGBT perversion is not the top sin of all sins, but it is a sin – like it or not. And while there is no condemnation in Christ, there are consequences to sexual perversion.
LGBT people are quick to label those of us who stand against such perverse sin as "homophobic" and treat those who stand for righteousness with disdain. Thus far too many LGBT people treat those who stand against their lifestyle just as they claim we treat them. Maybe LGBT people are "heterophobic". Why is it necessary for them to throw their sexual behavior into the mainstream? Why should we know what they do in the bedroom or with whom? Heterosexuals do not walk away flaunting that we are heterosexual. We simply live our lives, do what we do and keep our intimate business private.
Let's step outside of the spiritual or biblical issue for a moment. The LGBT ideology itself is very dangerous. It erodes the worldwide majority consensus family structure, strips away clearly defined roles, destroys and seeks to replace birth identity and challenges both the decisions of creation and the selections of evolution all at the same time. A small percentage of the population has risen to say everything else in nature, culture, religion and biology is wrong but that they are right. They are in fact saying norms, principles, morals, values, nature, the reproductive system, mostly all cultures of the world, genders and roles can be redefined by them on a case by case basis. Where is their evidence or expertise in any of this or their authority to redefine anything?
If we who stand against LGBT perversion are saying what God's word says, maybe they should try calling God "homophobic" and see how far they get. None of us are perfect but those who accept God's word are clearly commanded not to dwell in sin nor to accept it. If you don't like that, it's just too bad because He is God and you/we are not.
Romans 1:26-28
26 Because of this, God gave them over to shameful lusts. Even their women exchanged natural sexual relations for unnatural ones. 27 In the same way the men also abandoned natural relations with women and were inflamed with lust for one another. Men committed shameful acts with other men, and received in themselves the due penalty for their error. 28 Furthermore, just as they did not think it worthwhile to retain the knowledge of God, so God gave them over to a depraved mind, so that they do what ought not to be done.
Hebrews 13:4
4 Marriage should be honored by all, and the marriage bed kept pure, for God will judge the adulterer and all the sexually immoral.
Jude 1:5-7
5 Though you already know all this, I want to remind you that the Lord at one time delivered his people out of Egypt, but later destroyed those who did not believe. 6 And the angels who did not keep their positions of authority but abandoned their proper dwelling—these he has kept in darkness, bound with everlasting chains for judgment on the great Day. 7 In a similar way, Sodom and Gomorrah and the surrounding towns gave themselves up to sexual immorality and perversion. They serve as an example of those who suffer the punishment of eternal fire.
I Timothy 1:8-11
8 We know that the law is good if one uses it properly. 9 We also know that the law is made not for the righteous but for lawbreakers and rebels, the ungodly and sinful, the unholy and irreligious, for those who kill their fathers or mothers, for murderers, 10 for the sexually immoral, for those practicing homosexuality, for slave traders and liars and perjurers—and for whatever else is contrary to the sound doctrine 11 that conforms to the gospel concerning the glory of the blessed God, which he entrusted to me.
Mark 10:6-9
6 "But at the beginning of creation God 'made them male and female.' 7 'For this reason a man will leave his father and mother and be united to his wife, 8 and the two will become one flesh. 'So they are no longer two, but one flesh. 9 Therefore what God has joined together, let no one separate."
I Corinthians 6:9-11 and 17:20
9 Or do you not know that wrongdoers will not inherit the kingdom of God? Do not be deceived: Neither the sexually immoral nor idolaters nor adulterers nor men who have sex with men 10 nor thieves nor the greedy nor drunkards nor slanderers nor swindlers will inherit the kingdom of God. 11 And that is what some of you were. But you were washed, you were sanctified, you were justified in the name of the Lord Jesus Christ and by the Spirit of our God.
17 But whoever is united with the Lord is one with him in spirit. 18 Flee from sexual immorality. All other sins a person commits are outside the body, but whoever sins sexually, sins against their own body. 19 Do you not know that your bodies are temples of the Holy Spirit, who is in you, whom you have received from God? You are not your own; 20 you were bought at a price. Therefore honor God with your bodies
Leviticus 18:22
22 " 'Do not have sexual relations with a man as one does with a woman; that is detestable.
Leviticus 20:13
13 " 'If a man has sexual relations with a man as one does with a woman, both of them have done what is detestable. They are to be put to death; their blood will be on their own heads.
The Bible says we will know a spirit by the fruit it bares. The fruit of LGBT is confused genders. The fruit of LGBT is confused roles. The fruit of LGBT is confused children. The fruit of LGBT is NOT procreation. The fruit of the LGBT community is flamboyant perversion. The fruit of LGBT is both mindset and behavior contrary to what God says is right in the scriptures. While some of you may say the Bible is not perfect or has been tampered with, you need to know it has stood the test of time as the best guide for life, eternal life, relationships, order, family and victory that this world has ever seen. And if you reject it, who are you or what do you have better to offer?
God does not support the "to each his own" mindset. He has prescribed a New covenant way of living that is productive, honorable, fruitful, holy and rewarding. Too many people want to simply call on God when they choose yet live as they want. It does not work that way. It's time to clean out the closet instead of continuing to let perversion flow out of it that is damaging out communities, morals, values and principles.
I am not here to condemn anyone. Nor to say I am perfect. We all fall short in some way but that does not mean we have to willfully continue to do so. I am also not here to relay simply what I think. Nor to hate anyone. But I am also not here to sugar coat LGBT perversion. If you are LGBT or support LGBT and have read this article, know that when you stand before God you can never say you didn't know the truth.
Staff Writer; Trevo Craw