"The True Spirit of Christmas".
(ThyBlackMan.com) I have a few stories for you this Christmas season. The first is from the life of Saint Nicholas; rather than repeat it here I'll ask you to go to this site (http://www.stnicholascenter.org/pages/three-impoverished-maidens/) and read it. Go ahead, I'll wait…Nice story, isn't it?
Now for the second story. A long time ago when I was a teenager, my mother was a third-grade teacher. One December she came home and told us that a little girl in her class said Santa wasn't going to come to their house this year. The family had fallen on hard times, but the little girl didn't understand that.
My mother didn't insist, but she made it VERY CLEAR that it would be a good idea if my younger sisters and I found some old, no-longer-used toys around our house, cleaned them up, boxed and wrapped them as presents. Then she asked me to deliver them.
I called a friend and we excitedly made plans. We knew exactly what to do: we watched Mission: Impossible on TV all the time. We would dress all in black, go to the house, quietly put the bag of presents by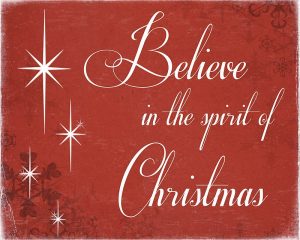 the front door, ring the doorbell, and sneak away in the night.
Everything went well, right up until we rang the bell. The porch light immediately came on and the front door started to open! Evidently the father had been standing by the door when we arrived.
We threw ourselves off the porch and ran for the car. As we ran, my friend called out in the lowest voice he would manage, "Ho, ho ho!"
The next day in school, an excited little girl came up to my mother and said, "Mrs. Loss, guess what? Santa came to our house last night, and he was dressed all in black!"
Now, I tell this story not to glorify my family or myself, but to illustrate that the story of Saint Nicholas and the legends of Santa Claus are more than just nice stories. They are examples of how we're expected and requested to behave. When we wish each other Merry Christmas (literally, the Christ Mass, the church service to celebrate the birth of the Redeemer of mankind), Feliz Navidad (literally, the nativity of the Lord), Joyeux Noel (again, literally the Nativity), or Froehliche Weinachten (literally, the Holy Night when Christ was born), we are giving each other little blessings for His birth.
There are many Christmas customs that are often thought to have pagan origins—the Christmas tree, mistletoe, etc. But when they are examined in detail, you will find that although they may have begun as pagan customs, early Christians adopted those customs and gave them Christian meanings to help bring these new people to Christ. Rather than turn our backs on those customs, we should investigate those meanings and reinvigorate Christmas by telling them to everyone we know.
And we should all try to follow the example of Saint Nicholas (Santa Clause!) and give to and minister to those less fortunate than ourselves, never asking for recognition and if possible keeping our identities secret. That's the true spirit of Christmas!
Staff Writer; Douglas Loss