Why the hiring of Willie Taggart could be a game changer for black head coaches in college football.
(ThyBlackMan.com) One of the more interesting college football head coaching hires for the 2017 season is the hiring of South Florida's Willie Taggart to the University of Oregon. There was interest from Oregon in other accomplished coaches like Boise State's Bryan Harsin and Western Michigan's P.J. Fleck but they ultimately chose Taggart as the man to bring the Oregon Ducks back to national prominence after a disappointing 2015 season and a shocking 2016 season.
Willie Taggart's emergence as a likely candidate for the Oregon job as a black head coach in a sport, where 56 percent of the athletes in college football are black, says multiple things because of Taggart's pedigree and it could be a key to the increase of coaching opportunities for black head coaches in major college football.
Following the 2016 college football regular season, there were 17 major college football openings available. Nine of those openings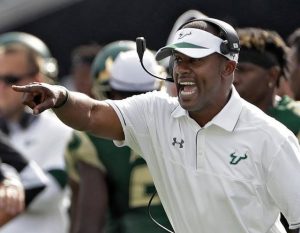 have been filled with including Willie Taggart at Oregon. Of those nine coaching hires, six could be categorized as head coaches with more an offensive coaching background than defensive. Athletic directors, fans, and the media often gravitate towards teams and coaches with high-powered offenses than devastating defenses.
Former Houston head coach Tom Herman was arguably the most coveted coaching commodity by many athletic directors looking for a head coach. Herman was able to land the job with the most upside and history at the University of Texas because he has been considered an offensive "mastermind" by some. He succeeded former coach Charlie Strong, a black head coach with a defensive background despite Strong's offenses being relatively productive during his brief tenure at Texas. Two of the six head coaching hires with an offensive background are Willie Taggart and new Nevada head coach Jay Norvell, both black men.
Those two hires are important, especially Taggart, because of the long-held stereotypes about black athletes lacking the cerebral ability to design and run offenses compared to the aggressiveness involved in coordinating defenses, where many more black men coaching defense than offense. Willie Taggart has built some very productive offenses in college and led South Florida to an impressive 10-2 record in 2016.
Also, Taggart was a former college quarterback who received the endorsements of highly successful coaches like Tony Dungy and Jim Harbaugh. As more black men get opportunities to play quarterback in college and the NFL, there will be more opportunities for more black head coaches to emerge as decision makers like athletic directors and college presidents will always look to make an exciting hire by finding the next offensive "mastermind". There will be even more black offensive minds coming down the coaching pike.
Staff Writer; Mark Hines