Prince, I May Never Get Over Mr. Purple Rain.
(ThyBlackMan.com) April 21, 2016 we were forced to say goodbye to the man we know as Prince. To me that was one of the darkest days of this year. How do I acknowledge the passing of an artist whose music meant to much to my life, and whose music saw me through so any rough times? I know I'm not the only person that feels this way, but I feel compelled to say of all those that have passed on in this year, 2016 has been absolutely brutal, the death of Prince is one I may never get over.
Sometimes there is an artist whose presence through their works is realer to us than any immediate person in our life. It seems like not only do they understand us, but they know what to say to pick us up…or give us that tough love. Prince was that artist for me. It was like I learned to appreciate the dynamic power of womanhood,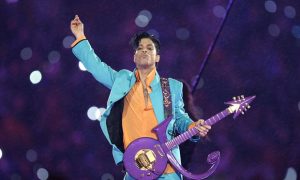 and the power of feminine sexuality through the music of Prince. Ok, and let's just be honest Prince could play a guitar, and piano in ways that pulled on every nerve in your body. His voice was whatever you needed it to be as he covered so many ranges. Prince truly was a sexy MF! Prince is the only man I know that could be that in touch with his feminine side and folk knew better than to question his sexuality. He was so much to so many…and now there is just this void.
There is no way I can put into words what the life of Prince meant to me. However, I will remember that my individuality is important, and is the essence of who I am. Prince will always be a reminder that its ok for your work to be public and speak loudly, but you can have a private life. Prince is a reminder to be confident in who you are, learn your craft, and know you are the best at what you do…live and walk like it is so. I could go on for days recounting the many things I have learned from the life of Prince Rogers Nelson. Prince if you are watching over us…thank you for being you. Thank you for a body of work that will keep your spirit forever near us. Continue to remind us of who we are.
Staff Writer; Adonicka Sassy