Eminem 2016 still Hip Hop, yet some question GOAT status.
July 29, 2016 by Staff
Filed under Uncategorized
(ThyBlackMan.com) "I don't really understand the appeal of dude. He dropped a few hot verses back in the day, but he's been mad average for many years now. He is probably the most overrated rapper of all-time, but he did really well targeting his audience. He is a genius in that sense, but in the bigger scheme of things, there are a million rappers who were and are lightyears ahead of him." – Rapper Jay Z thoughts on Eminem during a Music One interview
The debate has been going on for years over Eminem being the Rap God or the Greatest of All Time. Most often those arguing that Eminem is the G.O.A.T immediately mention that he has sold over 44.91 million cumulative albums around to Soundscan era and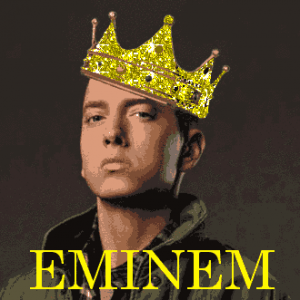 that those numbers continue to grow. Fans of the artist also mention that Eminem has sold more albums than 2 Pac, BIG, Nas and Jay Z. In fact Eminem is the best selling rapper of all time and the second best selling individual male artist, Garth Brooks holds down the number one spot.
I find myself wondering when sales became such a huge factor in G.O.A.T status? When did we step aside from listening to lyrics, the ability to tell stories through rhymes, the passion and intensity that makes lyrics apart of our life, our story and even the purpose behind the lyrics. I remember when rap/hip hop music was about creating awareness! Whether the artist was talking about sex, what they see happening within their community, the breakdown of the black family, the drug epidemic, the increase of crime within the hood and the dysfunctional relationship between blacks and cops.
During that time Eminem would never been seen as a Rap God and no one would dare refer to him as G.O.A.T. I can't deny that he has his share of catchy hooks and a few rhymes that could be pulled from a few songs and put elsewhere to make something rather relevant but if we use the same standards which we argue over Jay Z, 2 Pac, Nas, BIG, T.I, Snoop, KRS-1 and others, we quickly realize soundscan era doesn't factor into the mix.
I dig Eminem's rag to riches story with him being born into poverty, born to drug addicted parents and constantly being bullied for being a white rapper. He definitely overcame the odds, but being "Rap God" isn't about overcoming odds in your personal life, all rappers have done it to some level. This is about creating timeless music which can reach the hearts of rap and hip hop fans and in my opinion Eminem just isn't cut out to be Number 1.
What are your thoughts? 1# in your book? Or just overrated because of his whiteness? With 2016 coming to an end, what would you like to see from him in 2017? Album? Collabing with this generation of lyricists or?
Staff Writer; Greg "Hip Hop" Jones