Black Love: A Friendly Reminder.
(ThyBlackMan.com) The year has already sprung into March which happens to be my birthday month. This is the season when the Earth's free landscape begins to blossom and when I reflect on my year. Experience and observation have always been my greatest instructors. The following is a reminder from my learning experiences.
When you are in a relationship rather it being in the initial meeting phase, married for 30 years, divorced, or dating again; they all have the same core principles regardless of relationship level. The relationship will continuously grow as it feeds on communication.
This food must exist in three fundamental areas:
(1) Spiritual Communication,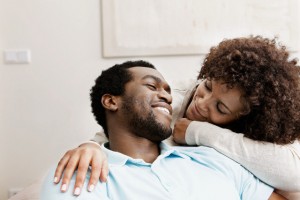 (2) Verbal Communication,
and
(3) Sexual Communication.
Each communication holds equal importance however, gaining a Spiritual language and Verbally knowing how to communicate with your partner will always hold greater value than the Sexual Communication..
Being understood and respected by your Soul Mate or significant other creates for a powerful bond in the union. As time has evolved women hold to and place high hopes in Sexually bonded relationships thinking they will become more than an object to men. A friendly reminder to the Wombman is to reserve Sexual Communication as a reward only after the Spiritual and Verbal Communication has been established. A foundation must be firm, consistency must be present, and his appreciation towards the Wombman must be pure before we ever start partaking in the fields.
Men are "givers" and Wombmen are "receivers." Wombmen, learn and know exactly what you can potentially "receive" from a man of interest to you. Wombmen know you are an Original Black Queen not a "baby momma" or a "single mother." Queens engage and engross themselves in particular motions to do what we have to do before we do what we want to do. Always remember to examine your thinking and persona while facing life straight on enabling you to accomplish goal after goal leading you to achieve more and more as a Wombman. Continue to set your goals high and never stay down.
Staff Writer; Mikkayla Dickerson
One may follow this talented writer on Facebook; MK, Twitter; M. Kay and Instagram; Mikkayla Kay.