A Community Run By a Local Woman Entrepeneur.
(ThyBlackMan.com) Poverty today across the globe is as oppressive a condition as it has ever been. A quarter of human beings alive today have to get by without electricity. Nearly half the world lives on $2/day or less (which is less than 1/3 of what American minimum wage earners make per HOUR of work), and nearly 800 million people don't have access to safe drinking water.
Aid agencies are enlisting the help of companies that reach out to help individuals and communities in great need, companies who can help address some of the most relevant issues plaguing poor communities. Companies that may be able to assist in spurring social and economic development.
One project that is slowly gaining exposure and momentum, a project that helps bring vital necessities to some of the most distressed, remote areas of the world, is EKOCENTER.
EKOCENTER, which helps provide safe drinking water, Internet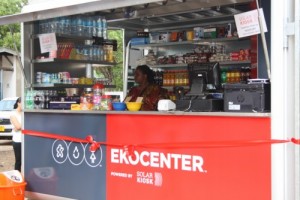 access, and solar power to areas that are without them, is a modular community, run by a local woman entrepeneur.
Several multi-national companies and their executives, which include The Coca-Cola Company and
Bobby Kotick
, are putting forth great amounts of time and investment to help projects and initiatives, like EKOCENTER, grow and take root in areas all across the planet, with hopes that their efforts will prosper, and help to motivate others to make their own contributions to worthwhile endeavors.
EKOCENTER is, structurally, a 15-foot long kiosk. Solar panels on the roof provide power and electricity. Their goal for clean water is to provide a water purification system close by the kiosk for accessibility for locals, or preferably, to house the system within the kiosk itself.
There are 3 different components to the EKOCENTER system. Utilities, the most fundamental, is the first level. There's a provision, off-the-grid, providing for safe water, power, and Internet connectivity. Once those utilities are fully available, Services, the second level, can be pursued. Services, beginning with more basic things like photocopying, cooling beverages, and charging phones, can progress from there to providing entertainment, education, banking, and healthcare services. Products, the third level, is the opportunity to provide communities things they want access to or need. Items can include staple items such as sugar and flour, as well as personal hygiene products, and food and beverage selections. It could even progress to include vaccinations, over-the-counter medicines, and critical healthcare-related products.
SOLARKIOSK, a private company based in Berlin, Germany, is collaborating with EKOCENTER on the pilots. Since 2012, SOLARKIOSK has piloted kiosks in remote areas in Kenya, Botswana, and Ethiopia, and brings an innovative technology and an award-winning design, as well as an inclusive business model to enable social and economic development in off-the-grid communities to the partnership. The goal at this time is to have 150 EKOCENTERS up, running, and fully operational by the end of next year, targeting select markets in Southeast Asia and Africa.
EKOCENTER and its contributing partners won't be able to totally eradicate in extremely large regions that misery that so many are suffering from right now. But it provides some measure of relief and hope to many, which is a terrific start indeed.
Staff Writer; Jeff Brown