Young Black Men: The Sagging Saga.
(ThyBlackMan.com) Sometime last month, I decided to but a new suit. It was on a Wednesday, and it was an unusually warm day in the city. The temperature was in the nineties, scorching the citizens. A fellow writer and I spent the day strolling through the streets of Brooklyn. As we crossed a busy intersection, we noticed a huge billboard displaying two youthful African-American males, who were posed rearward, with their pants sagging southward, exposing their underwear. Beneath the portrait, a sign read "Stop the Sag." I smiled as I thought of all the brothers with whom I knew needed to heed such advice.
As we continued our journey, we soon found ourselves in the midst of Downtown Brooklyn, navigating ourselves through the hustle and bustle of the Fulton Street Mall. With each step–probably due to the billboard– we began noticing plenty of sagging pants. Ironically, the majority of ill-clad pedestrians were youthful African-American women.
Our eyes gazed at girls who wore low cut jeans which provided clear views of brightly colored thongs. We saw females who donned skimpy denim shorts, coupled with shredded back pockets which provided glimpses and glances of sun-baked buttocks, coin-slot slits that separate butt cheeks, and laced panties; However, even more startling were the women who were wearing tight-fitted sheer-spandex with no underwear at all.
My mind immediately wondered why the billboard only targeted the boys. Was this another attack on the young, Black male? Or did certain politicians and activists think that thongs, laced panties, and see-through tights were more befitting for societal eyes as opposed to the boxer shorts of young men and boys?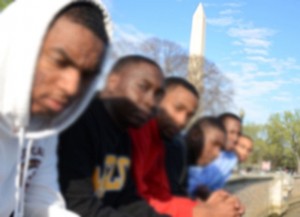 "Saint," my friend posed, "I heard the guys let their pants sag due to a prison tradition. Why do the women reveal so much?"
I gave his question some thought and consideration and was somewhat saddened by my response. "You know," I began, "Black women have been through–and are still going through–so much that their self-esteem has been damaged just as much as the Black male, if not moreso. They had to deal with men who cheated on them making them feel worthless. Many of them are forced to raise children by themselves, and it seems as if the more children that they have, the less attractive they become. They have to deal with the nappy hair, good hair syndrome; which implies that white, Asian, and Latino women are more attractive than them. They have to deal with the light skinned, dark skinned foolishness, which only informs them that white, Asian and Latino women are/were prettier than them. And they were reminded of this reality each and every time they saw a grinning Black man proudly walking with his head up, clutching the hand of a woman who looks nothing like her.
In addition, many Black men are away in prisons, drug/alcohol rehabilitation centers or insane asylums. A lot Black men die very young and then if you add in the culture of gay Black men, what choices are we leaving the women? The ratio of Black men to Black women is lopsided; so, therefore, they have to compete and vie for a man; that is, of course, if they don't want to live a lonely life.
So, in the end, I'm sure the competition is fierce and it's evident that many of them believe the more sensuality they reveal or expose, their chances of landing a man will increase. I just hope they understand that the more meat that they use as bait, the more likely they are to hook an animal.
As we left the Fulton Mall, I thought to myself, "No, they didn't need to be on the billboard; many of them are/were already billboards.
Staff Writer; Saint Solomon
Twitter; http://Twitter.com/saintsolomon2
Instagram; http://Instagram.com/saintsolomonnyc
Official website; http://www.SaintSolomon.com
FB; http://Facebook.com/saintsolomon