Book Release: Winners Never Quit and Quitters Never Win!
(ThyBlackMan.com) (Never Allow a Bully to define you)
An avid reader of this new Book by Stanley G Buford remarked, "No parent should send their child back to school before reading his book!"
Bullying occurs when a person is singled out for punishment, hazing or retribution again and again by an individual or a group of people with more power, either in terms of physical quality or social standing.
Two of the principal reasons individuals are harassed are a direct result of their appearance and societal position. Bullies (males and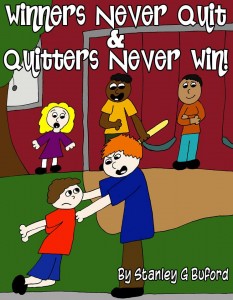 females) single out individuals they think don't fit in, perhaps in light of what they look like, how they act (for instance, kids who are timid, shy or withdrawn), their race or religious inclination or on the grounds that the bullies think their target may not be straight, for example a person perceived to be representing the LBGT community.
A few domineering predators assault their subjects physically, which can mean anything from pushing or tripping to punching or hitting, or even rape. Still other bullies utilize psychological control or verbal abuse to place them in control, for example, individuals in well-known groups frequently bully individuals they perceive as different by barring them or tattling about them (mental bully). They might likewise insult or tease their subjects (verbal tormenting). Verbal tormenting can likewise include cyber bullying — sending disparaging messages, texts or posting insulting comments on Facebook or other social networks.   The good news here is that there is hope!
As a person that was bullied in grade school as a youngster and fought bullying as a classroom teacher in Chicago Public Schools; the writer employs concrete steps to prove that one can overcome bullying. Stanley G Buford states: "You may face impossible odds in an attempt to confront a person that relentlessly taunts, blames or harasses you; however, with the proper techniques you too can take a stand and be a stronger person". This prized read will establish itself as a fun story for kids and a teaching tool for parents. The book has an Afterword that concludes with some non-fiction, practical, yet realistic, steps youth can practice when confronted with bullies (male and female). Stay with it! And always remember: Winners Never Quit and Quitters Never Win!
Purchase book; http://www.amazon.com/Winners-Never-Quit-Quitters-Win-ebook/dp/B0128D5OQ6/ref=asap_bc?ie=UTF8 (——
Staff Writer; Carl Thomas