Readers Theater Celebrates Poetry Month.
(ThyBlackMan.com) The Readers Theater performance with Ari Turner, Tangela Floyd and William Jackson was performed at the Mandarin Public Library in Jacksonville, Florida.
Infused with Spoke Word, Poetry, Sonnets, Odes and other poetic verse the performance, one of many in Jacksonville, showed the "Unlimited Possibilities in Poetry" as the title of the performance explains the dynamic adaptability of how words can be used to tell a story, share emotions, thoughts and promoting intellectualism.
"It is time for parents to teach young people early on that in diversity there is beauty and there is strength." Maya Angelou
Readers Theater provides a passionate performance for various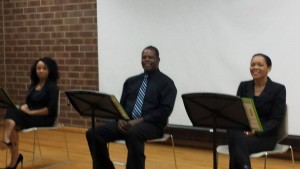 genres of poetry including lyrical, narrative, dramatic, and spoken word poetry. The cast of Readers Theater celebrates the literature of poetry past and present, bringing history, emotion and inspiration of poetry to life. Directed by Tangela Floyd and Emanuel Washington, there will be performances held each month in Jacksonville, Florida and the surrounding communities.
"Poetry is the doorway opening to a portal of possibility." Beyond Literacy Link, 2014 The empowerment of Readers Theater is from its Mission to address literacy empowerment in urban communities and schools. RT works to bridge communities through the personal
writings of notable literary icons in our nation's history from all walks of life, gender and cultures.
The cast of professional readers, poets, bloggers, and spoken word artists brings words to life. Each production is accompanied by a multimedia presentation utilizing visual and musical backdrops. Readers Theater is a Young Minds Building Success Charities, Inc
(YMBSC) production.
"Never underestimate the power of dreams and the influence of the human spirit. We are all the same in this notion: The potential for greatness lives within each of us."

Wilma Rudolph
Staff Writer; William D. Jackson
Find out more about this talented writer over at; OCS For Education.