Blue Ivy Carter 2014; What to Give the Cute Blue Ivy Carter for the Holidays.
December 1, 2014 by Staff
Filed under Uncategorized
(ThyBlackMan.com) It seems that Blue Ivy Carter and her parents, the rich and famous Beyoncé and Jay Z, are all getting into the spirit of the season.
Holidays
Last Wednesday Beyoncé shared a beautiful photograph ofher daughter'sadorable silhouette and a beautiful tree decorated with green, blue, gold, silver and teal holiday ornaments. This beautiful tree is perfect for a picture of her daughter.
New hairdo
Earlier this month, Blue Ivy Carter debuted new hairdo. The tiny toddler has been spotting natural hairstyles but Blue Ivy was wearing a very different look while she was out shopping with her parents in Beverly Hills.
Out with her parents
This adorable soon to be 3 year old was being carried in her father's arms while wearing a tight ballerina bun on Nov.11. Blue Ivy Carter, Beyoncé and Jay Z reportedly spent the entire day shopping at Saks Fifth Avenue, which was kind enough to close their store to the public so that the Carterclan could be accommodated better.
Cute outfit
Along with her cute high bun, little Blue Ivy Carter sported a dress of pink with stripes of navy blue, black ballerinapatent leather flats and even trending draped over her shoulders a biker's leather jacket. How cute is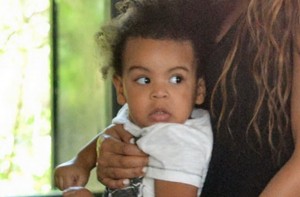 she!! Many have been trashing Blue Ivy Carter and her hair which is all over her head – sorry folks, that sometimes is the style. Making fun of a daughter of celebrities is just so wrong!
Halloween costume
For Halloween this cute little tike was sporting a Michael Jackson look, pink microphone and diamond-studded single white glove which were perfect for the kid who can have anything. Her $ 1billion apiece parents are trying to give her as normal a life as possible. January is her birthday month – can't wait to see what Blue Ivy Carter will be wearing then.
Let a child be a child
Last month they were dished again when on a day trip and Blue Ivy was standing over an air vent giving others a private view of the Louvre. Where she was at the time wasn't told– could have been their own back yard. People shouldn't be making fun of this beauty as Blue Ivy Carter is adorable no matter what she wears. Sure, she could be a little fashion model but kids are supposed to have fun and not trying to get to the fashion front rows. Her parents have chosen to let their child be a child and not start training her to be a model. Good for them – we should see more of this in the world of celebrities. She is a happy, well-adjusted kid which the world needs to see more of. 
Personally, her birthday party should be all that her parents can afford and people should not be making fun of it – let them do what they can afford to do for little Blue Ivy Carter.
We live in a world where the children of celebrities are targets for their hairdo to what they are wearing whenever they go out. The best thing to give Blue Ivy and other kids in her situation for Christmas is a world of privacy instead of celebrity bashing.
Happy Holidays
Happy Holidays to this cute little girl and her parents.
Staff Writer; Greg Ford