HBCU: Edward Waters College Students Visit Open House.
(ThyBlackMan.com) Students of Edward Waters College participating in Educational Technology class where the instructor William Jackson is teaching about adapting and using new technologies for education majors, mass communication majors and even business majors. Students recently attended Open House at Venetia Elementary school in Duval County Public School system to see how a school uses technology, manages data, apply standards of instruction and the role and duties of 21st century educators.
The importance of instruction in education and STEAM in HBCU's can be seen in the classrooms of Historical Black Colleges and Universities similar to the classes at Edward Waters College located in Jacksonville, Florida.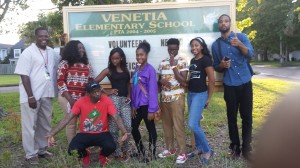 The students of the Educational Technology class with Professor William Jackson a teacher with the public school system in Jacksonville, Florida and Adjunct with Edward Waters College, the oldest HBCU in the state of Florida is showing there is a need and demand for knowledge in the area of technology integration, content creation, curriculum development and the development of thought leaders.
Students in the Educational Technology class at EWC are learning to modify, create and enhance documents for lesson plans, access to data using spreadsheets that show learning gains or learning challenges, conduct presentations using PowerPoint and build interactive projects through web based research. Students are taught how to Market and Brand themselves using Social Media platforms to help them compete and showcase their abilities and talents to become future professionals. Students in EDU TECH 250 will be engaging in Blogging online sharing their experiences and opinions on educational issues.
Mr. Jackson has been teaching at the historic EWC for several years, provides instruction on how to integrate technology in the learning and business environment for students in the Education Department, Mass Communications and other disciplines. He also encourages young men to enter into education as a career.
Teaching over 20 years Mr. Jackson has seen a decline in male teachers and an increase in discipline related to classroom management when dealing with behaviors. The only way the School to Prison Pipeline can truly be addressed if more parents, especially men / fathers are involved activity and consistently involved in their children's learning.
Staff Writer; William D. Jackson
Find out more about this talented writer over at; OCS For Education.