No More Lives Lost: Brownsville section of Brooklyn, NY Residents Send a Message of Hope.
(ThyBlackMan.com) For many outside the community, Brownsville, Brooklyn has become synonymous with gun violence and crime. More people have been shot in Brownsville this year than in all of Manhattan, and it is estimated that 56 percent of the men imprisoned come from this eastern Brooklyn neighborhood.
Yet, on Aug. 10, 2014, the people who call Brownsville home united in an effort to reshape their community's reputation, breaking the cycle of violence and uplifting a message of hope.
Led by Karmisha Superville, more than 200 residents and friends packed the Brownsville Playground at 1555 Linden Boulevard to lift their voices in unison, making the declaration for their beloved community, "No more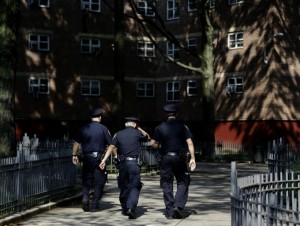 lives lost."
With the help of every prominent person within her network of contacts, Superville orchestrated the empowerment session, "Bridging the Gap Between Church and Community: An Initiative to Stop Gun Violence."
For many years the Brownsville section of Brooklyn has faced a stigma to the larger society as direct result of the high gun violence and other criminal activity, and that Sunday the community gathered in the heart of their neighborhood to receive powerful messages of renewed hope coupled with practical strategies to end the current and tragic gun warfare.
"There is a renewed sense of awakening taking place in a community that has least undergone gentrification within Brooklyn," Superville said. "And on August 10th that awakening was rocked, cradled and nurtured. As residents joined together and supported Brownsville, they helped to build Brooklyn."
The event was kick started by a Drumcore prelude by Maranatha SDA Church, followed by a heated panel discussion on gun violence moderated by Gilford T. Monrose. Panelists included Shanduke McPhatter, Sean T. Pryor and Chris S. Owens. A second panel on education, financial literacy and health moderated by Council Member and Community Liaison, Ernest Skinner, followed. The panelist included Maranatha SDA Church Pastor, Shane Vidal; Health Professional and Pastor, David Newton; and Damien Jackson, a top financial advisor.
Superville and her team distributed questionnaires to the local residents about ways of combating crime in their communities. The surveys also sought feedback from community members about their needs and how they feel churches can assist in meeting them.
Brooklyn District Attorney, Ken Thompson, also mingled with the residents before addressing their concerns. Thompson spoke to media outlets about the influx of gun violence and why he decided to support this gun violence rally. 
Various churches of varying denominations supported Superville's vision, with each volunteer wearing T-shirts that read "Bridging the Gap Between Church and Community"—reflecting the event's purpose and symbolizing unity.
Many inner-city communities are filled with churches; however, crimes are at an all time high. Superville said she found it alarming that many churches are not involved in community outreach programs of this magnitude; yet, it was very refreshing to receive so much support from a plethora of religious organizations.
As the successful Brownsville event continues to be highlighted, Superville says people must be willing to replicate this template to other communities.
"I want this event to be a movement into other communities in Brooklyn and even statewide," she said.
Gun violence is an issue that strikes home for the twenty-something Brownsville resident. Superville has experienced the pain of losing family members to this silent killer and, with a vision that she deems "miraculous," Superville decided to take a stand and promote awareness about this issue. She strongly advocates for ending gun violence in Brownsville, knowing that decreasing violence even in the slightest way can make a world of difference.
"One life saved from the hands of gun violence is the reward of a lifetime," Superville said. 
Staff Writer; Shala Marks
Connect with this talented sister via Facebook; https://www.facebook.com/shala.marks & Twitter; https://twitter.com/Shala_Marks.
Service is her passion, writing is her platform, women and the Black Community are her avenues. Shala Marks is a writer, editor and soon-to-be author. Through her work, Marks aspires to demonstrate "The Craft of Writing, and the Art of Efficacy." She has a B.A. in journalism from Arizona State University. Connect with her over at http://www.ShalaMarks.com.