Young Black Men: They Have Their Eyes On You!
(ThyBlackMan.com) Have you ever noticed someone watching you? You know it because you can almost feel it in your bones. The moment you look around and determine who it is that is watching the next question generally is why were they watching you?
In my book entitled, "Life Lessons For My Sons", Life Lesson #3 states, "Glean from the man that the Lord places in your life. That man was ordained to demonstrate godliness for your benefit.-Dad".
Have you ever considered the fact that there are people, brothers and young brothers who are watching you as their example of manhood? They are looking to you to display the qualities of what it means to be a Man of God. Understand they are not looking for a perfect man because they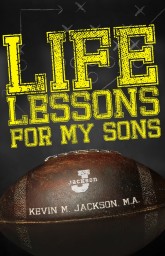 already know that "The Perfect Man" does not exist beyond Jesus Christ. However, they are looking for a victorious man who has experienced triumph during difficult times and grace in the times of personal defeat.
The young men of this generation are looking for "Real Men" who will share real experiences for their benefit. Allow me to share with you several things that the young man who is watching you should be able to glean from you.
1. He should glean the importance of good hygiene and personal appearance. In other words, your attire and hygiene upkeep speaks volumes about the type of person you are. Demonstrate to the young men in your life the importance of looking your best and being your best at all times. You may have to buy them the necessary items to help them meet good standards of appearance and hygiene.
2. He should glean that a "Real Man" accepts responsibilities for his actions. Allow the young men in your life to see a man who will own up to his faults and failures. Demonstrate the importance of keeping promises and honoring commitments. Show that young man the fruit of being responsible with your successes and accomplishments in life.
3. He should glean the importance of a man being connected with Christ. Show that young man who may have reservations about expressing his faith in Jesus Christ that it is ok and appropriate for a man to acknowledge his relationship with Christ in public, through his lifestyle and interactions with others. Listen! Share with him your own initial reservations, so that he will know that what he is feeling is not something foreign to the male experience.
If you simply start with the three items above, you will make a powerful impact in the lives of so many young men who do not have a godly role model in their lives. Whatever experiences you have, they can serve as stepping stones for some young man. You do not have to be famous to make a difference. You just have to care enough to do something about the situation within your own abilities.
Staff Writer; Kevin M. Jackson
To read more articles by this Christian brother feel free to visit; A Word In Season.
Mr. Jackson has also self published several books; When God Speaks and most recently; Life Lessons For My Sons.
Feel free to connect with him via Twitter; TeachElderJ  and Facebook; Elder K. Jackson.