Eminem isn't America's white hope for rap, he's its true Rap God?…
(ThyBlackMan.com) The general consensus of America doesn't like the idea of a musician dominating in a genre that they are naturally gravitated to succeed in; Chuck Berry with Rock, Michael Jackson initially with pop, and now Eminem with rap music. Pound for pound in terms of record sales and pop culture, no one has had a bigger impact globally than Eminem. To me, he's hands down top 5 dead or alive. Not because of the aforementioned command he's undoubtedly had on rap music and music as a whole, it's because lyrically, he's superb and almost unmatched.
Many will always play the race card factor, but it's merely propaganda. Even though his recent album "The Marshall Mathers LP 2 further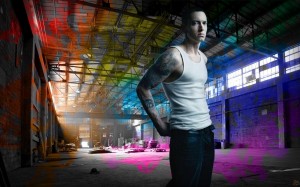 validated his status as a hip hop king, his rap skills are almost second to none. The question that begs, is, why don't many acknowledge this?
As said before, it's a rarity to find a pop star in any field that actually surpasses in their craft to which they could out-rap, sing, or play instruments better than most that are gifted but unheard of to the masses. Usually, the superstar is a great songwriter, but not technically sound in rap skills or having a great singing voice. This lets the record label have more power-of-attorney control of every aspect of the artists' career from their media training, song structures and image.
But Eminem from the gate has exceeded all of the stereotypes of being one of the world's biggest stars; plenty of records showcased the Detroit, Michigan MC's talent of the ability to put multiple words and syllables together two, three and four bars over to make a cohesive overall song. Songs such as "The Way I Am," "Stan," and the classic "Lose Yourself," all are principle examples of the lyrical skill that Eminem commonly displayed on the radio format. He had storytelling masterpieces "Cleaning Out My Closet," politically charged anthems "Mosh," and the fan favorite motivational song "Til I Collapse." And besides the horrible pop numbers on his latest release MMLP2 he featured songs that made his fans and critics alike adore and idolize him such as "Rap God," and "Berzerk."
Those with the untrained ear may blast the ridiculous accusation that Eminem is receiving the adulation on the premise that he's America's white hope for rap. Hmm, it's easy to use the race card, but honestly, if you paid devotion to his rap records and his wordplay/diction, his claim of being one of the greatest rappers may not be as far-fetched. After selling well over 40 million copies in the United States alone, it would be preposterous to say he's not one of the best commercial rappers. But, he's more than a rapper who in MTV's heyday was plastered frequently over the air; he's a lyrical monster, a beast, a true rap god.
Music Editor; Brad Washington