Does Beyonce's New Album Sacrifice Quality for "Turnt Up" Music?
(ThyBlackMan.com) Let me start off with a disclaimer: I am not a Beyonce fan, meaning I do not religiously follow her career or listen to her music. Though I don't dislike Beyonce, I don't keep up with her either. In high school, like every other black girl, I looooved me some "Get me Bodied" and "Irreplaceable" and I definitely wrote a letter to Destiny's Child in elementary school, but I am older now.
No shade to DC (cause I still have my Writings on the Wall CD!) or Beyonce, but as I've gotten older my taste in music has changed. I'm not amused by a "banging beat," but appreciate songs that actually have good and meaningful lyrical content. I stopped listening to Beyonce my freshman year in college (I Am..Sasha Fierce album); so, I don't know much about her album 4 or current world tours (if she's still doing them).
All disclaimers aside, I still wanted to add my 2 cents about her freshly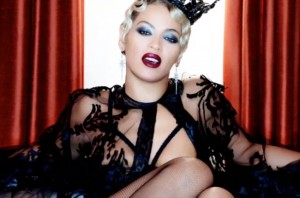 released, self-titled album. I've seen the news: On Dec. 13, Beyonce released her latest album exclusively on iTunes, and it's complete with 14 songs and 17 videos.
With selling 617,000 copies in its first three days in the U.S., 828,773 worldwide, and soaring to no.1 in 104 countries, I've read many people's commentary on how this was a genius marketing move by Beyonce, and how she's changed the music industry game's rules forever.
Yet, given the fact that you're only able to purchase the entire album, as opposed to singles, I've also read people's notions that this was a "force tactic"—a move made out of fear because if fans had the option to just purchase singles, the album, like 4, would've flopped.
Who knows? (And in my case, who cares?) I'm not very interested in Beyonce's reasoning for dropping her album the way she did, but more so the album itself.
Because of the mixed reviews, I decided to listen to her album myself (well, sort of). I watched 30-second clips for each video/song, but I also watched and listened to the following in full (no I didn't purchase the album, someone else did):
Yonce/Partition
Jealous
Drunk in Love
Flawless
With the exception of "Jealous," I was surprised and very much turned off by what I heard. Why you may ask? Well, because quite a few tracks on Beyonce's CD sound just like….everyone else.
I don't listen to the radio, because let's face it, music is just a mess nowadays. I mean honestly, it can hardly be called music at all.
A lot of these artists, especially rappers, have a "banging beat" and are just whining (Future) and spouting lyrics that make absolutely no sense (2 Chains). They're making music people can bounce to in the club…and that's pretty much it. The quality content within these songs is nonexistent.
It's trash. I know it may sound harsh, but hear me out.
Artists are not producing real music nowadays. Nothing is timeless anymore.
Remember the old school songs from Luther Vandross, Chaka Khan, Whitney, Prince and so many others that transcend time? I'm talking:
 "you make me happy, this you can bet"

"aint nobody, loves me better"

"don't make me close one more door, I don't want to hurt anymore"

"here and now, I promise to love faithfully"

"until the end of time, I'll be there for you…you own my heart and mind, I truly adore you"
Remember those songs? Yeah, today's music doesn't even hold a candle to them. The industry's current version of "timeless" is "Strip clubs and dollar bills…I still got more money" and "started from the bottom now we're here."
Or in the case of "Partition":
Driver roll up the partition please

Driver roll up the partition please

I don't need you seeing 'yonce on her knees

Took 45 minutes to get all dressed up

We ain't even gonna make it to this club

Now my mascara running, red lipstick smudged

Oh he so horny, yea he want to f**k

He popped all my buttons, and he ripped my blouse

He Monica Lewinsky-ed all on my gown
It's disconcerting. So, imagine my surprise when I hear a few Beyonce tracks and think, Is 2 Chains or Meek Mill about to pop out? Cause some of those songs definitely sound no different (or better) than the ignorance played day in and day out on the radio.
Today's "hits" are tunes lacking lyrical content simply disguised with a "banging beat." Does no one care anymore (even Beyonce) about actual lyrics as long as a "crazy" beat drops?
I digress.
When reading about her new album, I came across someone's interesting comment. It read along these lines:
Where are the extremely successful black female artists that don't have to be oversexualized in their videos or have sexually explicit lyrics to get record breaking sales? Although I commend Beyonce for having some positive songs on this album, overall, society says the only way a black female artist can have Taylor Swift's type of sales is by selling "sex."
This is an interesting point that fits perfectly into my disappointment upon hearing some of Beyonce's newest songs. We are definitely in the era of "sex sells," much more so than previous years. And in R&B and rap, it's sex over "turn up" beats that sell. Lyrics with no depth; just two simple bars repeated over a 3-minute "banging beat."
Most of these songs sound the same, and now it seems like Beyonce is following this new (and foolish) trend to sell albums. Last year it was electro-type beats and this year it's been club bangers. And as society continues to push the limits on sex, raunchiness and oftentimes violent and demonic imagery—masking it as being "different" like Lady Gaga or a "creative genius" like Kanye—artists are creating what they try to call quality music to follow suit.
Sure, Beyonce has always been sexual, but never to the extreme of Lady Gaga or even Rhianna. But seeing some of the images in her new videos, you can't help but think of the similarities to the icon award winner's "Pour It Up" stripper-themed video. Raunchy, extremely sexual, low-quality lyrics…over a "banging beat."
Is Beyonce, like many others, now more interested in making sure her fans "turn up" at the expense of producing quality music? Or, honestly, did she ever even produce quality music—lyrically speaking—and this new "Yonce" shouldn't come as a surprise?
If you've listened to her album, what are your thoughts?
Staff Writer; Shala Marks
Facebook; https://www.facebook.com/shala.marks
Service is her passion, writing is her platform, women and the Black Community are her avenues. Shala Marks is a writer, editor and soon-to-be author. Through her work, Marks aspires to demonstrate "The Craft of Writing, and the Art of Efficacy." She has a B.A. in journalism from Arizona State University. Connect with her over at http://www.ShalaMarks.com.