Three Crazy, Sexy and UnCool Ways that Singer Pebbles Was able to Get Rich Off of TLC.
(ThyBlackMan.com) Millions of people watched the film, "Crazy, Sexy, Cool," about the rise and fall of the amazing group, TLC.  Their record sales were off the charts and the group presented a musical formula that hasn't been replicated since their inception in 1990.
The film had a special place in my heart because it was like watching part of the soundtrack to my life.  Throw in a little bit of NWA, Ice Cube and Earth, Wind & Fire, and you pretty much have the entire life of Boyce Watkins.  Also, Tionne "T-Boz" Watkins happens to be my cousin, so I just had to see it.
Not only was the film every bit as amazing as I'd heard that it was, it was also educational.  The group's difficult experience with their manager, Perri "Pebbles" Reid, was a textbook lesson in business management, the music industry and how to get royally triple-s?rewed if you're not careful.
Even after the group had sold more than 10 million albums, the ladies found themselves broke.  Most of the problem was due to a contract that would have put prison labor markets to shame.  Effectively, even after getting just 7% of album sales, the group was still expected to cover all of the expenses for the recording, promotion, etc. for both their albums and musical tours.
It was sad and trifling, to say the least.  I was disappointed to see any human being do that to another.
The contract also got the attention of the Finance Professor in me.  I've been teaching Finance at the college level since TLC released their second album, so I know the dangers of unregulated capitalist greed quite well.  I know that when you don't have adequate worker's rights in place to protect the most vulnerable in the market place, capitalism is actually designed to produce various forms of slavery.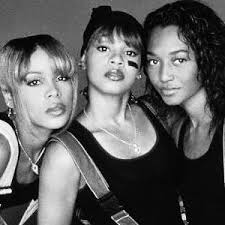 But despite the fact that Pebbles deserves the bulk of the blame for forcing the girls into such a horrible contract, there are things that they themselves might have done to make themselves vulnerable.  Here are three things I've seen in the entertainment industry that have led to quite a few artists ending up in the poorhouse:
1)      Not being educated about business:  The black community produces more than our share of great entertainers who can sing and dance on stage, but we are rarely the ones who know how to build and maintain the stage itself.  Everything that involves fame and fortune is produced out of a business model, and typically, the person making the most money (and having the most power) is the one who controls the purse strings to the enterprise.  Beyonces and Lil Waynes are not just born through talent; they are instead built with packaging, marketing, production and distribution.  Not understanding business when entering the entertainment industry makes you as weak as a football player who isn't wearing any pads.
2)      Not reading the contract in its entirety before signing:  When the bright-eyed and excited 19-year old kid finally gets her big break, she can sometimes be so excited about becoming famous that she forgets to read the contract she is signing.  Those little details may put you in a situation you'll later regret, so you have to take the time to read anything you put your name on.  If the person who gave you the contract doesn't want you to read it, that tells you everything you need to know about their motivations.
3)      Not having adequate and ethical representation:  Even if you know business and read the contract, that doesn't make you a lawyer or full-time business person.  Finding an experienced industry professional you can trust, or at least a legal advisor, can help you ascertain the risks and potential problems with whatever deal you're signing.   Had TLC had someone looking out for their interests besides Pebbles herself, they may not have gotten s?rewed the way they did.
The women from TLC are still crazy, sexy, and cool, even though Left Eye is no longer with us.  Their story should be told to every artist in the industry as a cautionary tale regarding how getting to heaven may drag you through just a little bit of h**l.   Always remember that an uneducated person with a lot of power and money is going to eventually have to watch an educated person take it all away (just ask former NBA star Antoine Walker).  It's up to us to protect our interests.
Staff Writer; Dr. Boyce Watkins