Is Kanye West Going Crazy?
(ThyBlackMan.com) Mocks Jesus and Sells Confederate Flag T-shirts During Yeezus…
Tour
Who exactly is Kanye West trying to please? Apparently, during the kickoff show of his new "Yeezus" tour in Seattle this past Saturday, West debuted some pretty outlandish "material"—on and off the stage.
Onstage
According to numerous reports, West's two-hour show included:
Him wearing numerous face masks;
Religious images projecting on the screens;
West being carried by 12 women (also masked) in sheer body suits; and
A sixty-foot high mountain top set where Kanye belted out numerous hits, and at one point, where the women came out in pairs carrying "religious iconography," such as the Virgin Mary, a swinging thurible spewing incense, and a crucifix.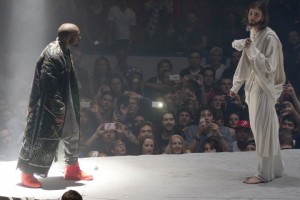 But what had everyone talking was the "guest of honor" Kanye decided to bring out. At one point, an imitation Jesus—a white man with long brown hair clad in white cloth—appeared on stage.
Reports say that Kanye West removed his mask, saying: 
"White Jesus, is that you?" West asked. "Oh, s–t!"
West allegedly said he'd been looking for Jesus, and "Jesus" responded that he'd been there all along. Later the fake Jesus "ascended" to the mountain top, joining the rapper.
Offstage
West's concert merchandise also has people talking. He's selling t-shirts displaying confederate flags, skulls, and skeletons. One design shows a skull with a waving confederate flag behind it, another has a skeleton wearing an Indian headdress with the caption "God Wants You," while a tote with just the confederate flag is apparently for sale.
Masks, fake Jesus, confederate flags and skulls: Again I ask, who exactly is Kanye West trying to appeal to?
I know his current album has the "Black Skinhead" song, but what exactly is Kanye trying to accomplish? What message is he trying to send? And to whom?
Historically, a skinhead (especially a white power skinhead) was typically someone with a shaved or closely shaven/cut head who was a part of a group promoting racist and/or white supremacist beliefs.
How did we go from hearing him ask Jesus to walk with him to Kanye West rapping about being a skinhead? Or him dropping knowledge in his late registration days—we'll buy a lot of clothes but we don't really need em, things we buy to cover up what's inside (All Falls Down)—to foolishly telling people not to play with God while simultaneously saying I am a god?
Even in his skinhead song, which has a very disturbing video, Kanye raps, "They say I'm possessed/ it's an omen." You're wearing masks and kilts and calling yourself yeezus and then you wonder why people are questioning your spiritual and mental state?
Now, don't get me wrong, I hear what some folks say. Oh, it's innovative; it's creative; Kanye is a genius and thinks outside the box.
There's nothing wrong with switching things up and no one said that ALL rappers have to look and dress like XYZ. But let's be serious: The man put a confederate flag on his concert merchandise. He is promoting the confederate flag people; whose approval is he really trying to gain? Because I can tell you one thing: No one African American I know has that flag hanging from their porches (not even a great deal of younger whites). And while there's nothing wrong with aiming to appeal to a broader audience, do we disrespect our core (and most likely first supporting) audience in the process? An audience we ourselves are a part of?
Many in the south see this flag as a proud part of their heritage, but it also represents slavery and segregation. And the Southern Poverty Law Center reported that more than 500 extremist groups currently use the Southern Cross found on the confederate flag as one of their symbols. It obviously doesn't symbolize unity, love and equality Mr. West.
Kanye West continues to disrespect Christianity by not only bringing out a mock Jesus but cursing when he speaks to him. Not to mention his entire tour is named after his blasphemous album title.
Promoting the confederate flag, continuing to mock God: I just have to ask once more, Is Kanye going crazy? What will the rapper do next to add even more shock value and blatantly disrespect groups all in the name of "art"?
Do you think Kanye West has gone too far? Or is he truly a creative artist? Share your thoughts below!
Staff Writer; Shala Marks
Facebook; https://www.facebook.com/shala.marks
Service is her passion, writing is her platform, women and the Black Community are her avenues. Shala Marks is a writer, editor and soon-to-be author. Through her work, Marks aspires to demonstrate "The Craft of Writing, and the Art of Efficacy." She has a B.A. in journalism from Arizona State University. Connect with her over at http://www.ShalaMarks.com.