Yes, Lower Your Expectation, Trust Me!
(ThyBlackMan.com) Happiness, to a great extent, is having something to look forward to.  It is savoring what's coming up. The happiness trigger of "anticipation" is easy to pull off, but you must be intentional about it. But with being intentional, you must also lower the expectation, to lower your anxiety.
Ok I know what you are thinking, this is a little counterintuitive, but I have to touch on it! It is possible to go overboard with a happiness trigger.  Any strength, when overused, can become a weakness. If you have a tendency towards over achievement, it can be easy to set expectations to look forward to that create more stress than good.  In fact, anticipation can also be about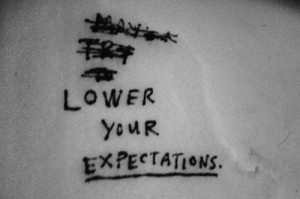 giving yourself permission to lower the bar a little.  I'm going to let that soak in for a second…
Think for a moment about the thing that you pressure yourself most about right now. There's so much expectation in it that it's like a balloon that's been filled to capacity with the air of expectation.  Put any more air in there and it'll pop!  Everything would have to come together absolutely perfectly in order for the expectation to be met.  Oh, and you have a deadline on it to – and it's not a leisurely deadline, either.  You got that thing in mind?
Now, close your eyes. Take a deep breath.  And imagine; you gave yourself a little more breathing room with that goal.  You'd still love for it to all come together the way you want, but loosen your grip on how it has to look. Now reflect on the words of Jesus:
"For my yoke is easy and my burden is light." – Matthew 11:30
When our expectations of what must happen begin to line up in the perfect will of God for our lives, it isn't a burden.  The yoke is easy.
High expectations create pressure and increase the likelihood for disappointment. Now, this is not to say you shouldn't have high expectations. However, be intentional about what you choose to have high expectations about. If your expectations are high about everything, the likelihood of disappointment and stress is much higher. If some of those expectations are about things that are not really all that meaningful, then you've unnecessarily caused yourself stress and disappointment. What burden can you lighten up this week? What situation can you loosen your grip on but still accomplish by your deadline?
Written by Valorie Burton