The Artistic Dilemma of Rapper Kanye West.
(ThyBlackMan.com) What is the role of the modern day recording artist? If you answered "to entertain and or make considerable profit" then I would say you are correct. Contrary to popular belief, the persona that any particular entertainer brings forth is, indeed, a calculated attempt to generate funds for their respective record company. But, what happens when an artist decides to put the integrity and respect of being an artist in front of the obligations to move records off of shelves?
For the man known as Kanye West, his choice accurately bridged the gap. His capability to present great art in hip hop form is what helped him to be considered one of the optimum minds in music. His good but insightful lyrics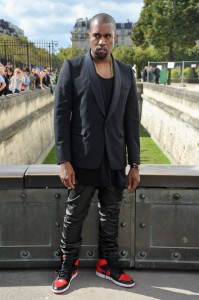 were backed by hip hop beats that ranged from sped up soul, pompous gloss of cinema and stadium themed anthems from The College Dropout, Late Registration and Graduation albums respectively. Instead of amassing assembly line rap or pop for designed success on the charts, he instilled his own formula of innovative but genre bending production with sharp songwriting and intellectual lyrics. Armed with that particular method, he parlayed that into substantial crossover success.
But in the midst of achieving wealth, artistic recognition and critic and fan idolatry, post-Graduation has seen his overall sales production take a significant dip. This is the result of Kanye West making the conclusion to take his work to a far-left musical direction, as an artist instead of as a lyricist. 808' & Heartbreak mainly consisted elements of Electro-Pop/R&B, while My Beautiful Dark Twisted Fantasy, although it has been considered hip hop's most musically challenging album in recent memory, lacked the lyrical depth that took him to super-stardom in the Late Registration Era. Now, coupled with backlash from a majority of Ye's hardcore fans from his newest project Yeezus, it can appear obvious that Kanye West could in the future be undecided in which musical direction he wants to go.
So the question I ask, is should Kanye West reproduce the content that his fans, critics and pop music love i.e. The College Dropout, Late Registration and Graduation? Or should he stay inside of the artistic vehicle that has divided his fan base, but has critics in awe of his capabilities and range as an artist? (808's & Heartbreak, MBDTF, Yeezus).
For the first half of his career, he achieved pop stardom with the likes of Gold Digger, Slow Jamz and Stronger. Now it appears that the pop sensibilities he once possessed have now gone by the wayside in order to make great art for his own intentions. Only time will tell if Kanye West will venture into music for the critics and his fans again, or continue to do it for the critics and him.
Music Editor; Brad Washington