Yes, Russell Simmons Speaks to Your Black World about the Harriet Tubman Video.
(ThyBlackMan.com) Russell Simmons seems to understand one thing about the recent Harriet Tubman s*x Tape video that was released on the Internet:  It was a huge mistake.
After the uproar on the web, Simmons was apologetic and remorseful, saying that he was deeply sorry for what happened.  As soon as the video began to receive negative attention, he made the wise decision to take it down and admit that he was wrong.
Russell Simmons reached out and spoke to Your Black World about the situation, providing a deeper explanation on what happened, and why.  It appears that the crux of Simmons' initial support for the video came under the umbrella of artistic freedom.  But as we all know, no umbrella should have an infinite size.
I am the vehicle and arbitrator of all creative content for argyle culture, GlobalGrind, All Def Digital and the Unirush Financial Services. I'm responsible for all of my philanthropic, social, and political endeavors (no one else).  Mostly, as a protector of artists, the piece in question was the oldest form of comedy — the oppressed taking revenge on the oppressor. It was, at the time in my misguided opinion, acceptable. But when members of the black community expressed their disappointment in me, I understood their pain and it broke my heart…

I decided to pull down the piece, to the disappointment of some in the creative community. It is their belief that I may not stand for the artists in the future. Yesterday was the first time I've ever not sided with the artists. Traditionally, I side with the artists, as I will continue to do, but this time is different. All of the artists involved who I have spoken to are now in agreement with my choice.

Let's move on, but if not, don't blame anyone but me. I'm willing to take the heat. I have been taking it all of my adult life. Love to the artistic community, but in this case, more love to the black community — especially black women.
I don't pretend to be best friends with Russell Simmons, in fact, he'd originally known me as a critic.  I also don't pretend to understand exactly why there are some artists I've met who have mixed opinions on the quality of their interactions with Russell over the years. Some artists seem to love him to death, and some sound like they want to punch him in the face.
But here's what I do know from working with Russell on our mass incarceration campaign that we took to the White House.  He does care about black people and put it on the line when it counted.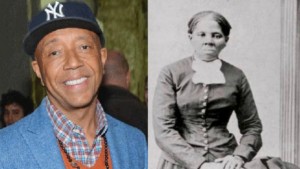 Russell and I wrote an open letter to President Obama asking him to end the mass incarceration crisis, which has served as the single greatest threat to black prosperity since slavery.   The US prison population has spiked 800 percent since 1981, with nearly half of the convictions being low level drug-related offenses.  This has destroyed black families by taking fathers out of the home, and also led to a mental health crisis among African American males.  It is the bleeding that must be contained if we are ever going to move forward, since prisons only serve to create more criminals and social deviants.
In working closely with Russell, I watched him put the full weight of his name and leverage behind the initiative, getting signees onto our letter as diverse as Will Smith, Jamie Foxx, Jennifer Hudson, the presidents of Morehouse and Spelman, Al Sharpton, Jesse Jackson and nearly 200 others.  It was a full-time, around the clock effort by a dedicated team of people.
The letter got the attention of the White House, and many experts believe that it played a critical role in getting Attorney General Eric Holder to make one of the most significant announcements on drug policy in the last 20 years.  Because of Russell's willingness to work on this campaign, thousands of people, many of them black, will be coming home to their families, and lives have been changed for the better.  I am personally appreciative because I've seen relatives have their futures destroyed after being given long sentences in these horrific, deadly facilities.
Behind the scenes, the initiative wasn't easy, and I can't say that the White House was always supportive of our work. Even the most polite and contrite requests being made toward the Obama Administration are treated like raw treason.  When the pressure was heavy, and relationships with the White House were at risk, I was impressed that Russell continued to move forward, largely because he was deeply committed to helping black people who've been hammered by Draconian prison sentences.  He lost a lot of powerful friends over this.
I can name a lot of celebrities, politicians and public figures who would not have made this sacrifice.  I've witnessed a lot of discussions that literally made me sick to my stomach when I realized just how little some of our public figures care about the people they claim to represent.  So, I must confess that my respect for Russell grew tremendously when I saw how he handled the mass incarceration issue behind closed doors.  If he'd been a man of lesser courage, that letter might have been dead and buried or traded in for personal favors.
But again, this is my opinion based on my perception of the truth.  This is not a blanket endorsement of everything that Russell Simmons has done for his entire career.  It is not, in the least, an effort to condone that disturbing and uncomfortable video.  But it is to say that none of us should be defined by one or two things we do, and that when we make mistakes, there can sometimes be avenues for at least partial redemption.
When the backlash came forth, Russell Simmons apologized swiftly and sincerely.  He also made sure to communicate to me and to the world that he was most deeply concerned with offending black women.  As a father of three girls, I also feel that black women deserve to be loved and respected, not demeaned in the way the iconic Harriet Tubman was in this video.  Due to our commitment to sexist leadership structures, black female heroes are few and far between in our community, so the ones we have should never be debased in any way.
Russell could have ignored the criticism in the  same way that Lil Wayne did when confronted on his verse about Emmett Till.  The truth is that many of our entertainers earn the bulk of their money from white people, so they can ignore the black community and still get rich.  So, Russell's apology does not appear to be financially-motivated, but might actually be due to the fact that he cares what black people think.
Had Russell not apologized, I would not be willing to write this article.  If the apology had been half-hearted, I would have had a different response.  I wish I could tell you how many former friends I have who were livid when I wrote something about them that they didn't like.  I'm not afraid to write what I believe about ANYONE, which is why I don't have many friends.  In fact, I dare say that friendships aren't worth having if they force you to change who you are.
Take it for what you'd like, but these thoughts come from the bottom of my heart.  And no, I wasn't paid to say this.   In fact, the most profitable way to be a black man with a PhD is to keep your mouth shut, serve a corporate master and collect a quiet and bulky paycheck.  In fact, I argue that many of those who sit and criticize the work we do without being willing to contribute to it are as shiftless and weak as the selfish politicians on Capitol Hill.
To understand the work being done in the trenches, you have to get in there.  And, despite the fact that he is a complex human being, Russell Simmons has been willing to go into the trenches for black folks, which I think should be laid on the table for consideration before labeling him as some kind of unconditional sellout.  Sometimes it's more complicated than that.
Staff Writer; Dr. Boyce Watkins 
Dr. Boyce Watkins is the founder of the Your Black World Coalition.  For more information, please visit http://BoyceWatkins.com.