Fruitvale Station Director; Why Ryan Coogler is the Perfect Example for Young Black Men.
(ThyBlackMan.com) Last weekend I saw the award-winning movie "Fruitvale Station." For anyone not familiar, the film is about the last 24 hours of Oscar Grant's life, a 22-year-old black male who was shot and killed by a Bay Area Rapid Transit (BART) police officer in the early morning of January 1, 2009.
The director of the film is 27-year-old Ryan Coogler, and like his debut film, this young man has an impressive story of his own to tell.
Initially Coogler wanted to play football and become a doctor. While on a football scholarship at Saint Mary's College, he had to take a creative writing class. After writing about a very personal experience that almost led to his father's death, his professor asked to speak with him about his life plans. Coogler said he wanted to, "Play ball, become a doctor and be a positive influence in my community," to which his professor responded, "I think you should become a screenwriter. You can reach more people."
He began taking screenwriting classes and soon fell in love with filmmaking. During his first semester (upon fully transferring his studies to filmmaking), he lived out of his car as he worked on various short films.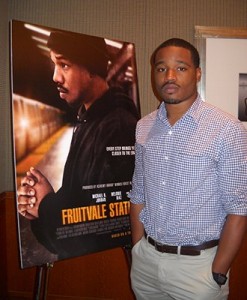 The aspiring filmmaker applied to the Sundance Institute but wasn't initially accepted. Yet, he didn't give up. Coogler applied again with the "Fruitvale Station" idea, which began his awesome journey to real-live film director.
Oscar winning actorForest Whitaker was looking for fresh, young talent to mentor for his production company, Significant Productions. After watching one of Coogler's earlier short films, Whitaker decided to meet with him. And after hearing about Coogler's Fruitvale script, the actor immediately signed on to produce the now powerful movie.
I was so moved by Ryan Coogler's story and the fact that he is
1) very young and

2) a Black male that I decided to research him a little more. I came across this video of him accepting the Vanguard Award at the Celebrate Sundance Institute Annual Benefit. And after listening to his speech, all I can say is…wow.
What an example this young man is for all Black men, but especially those his age and younger. Let me explain:
Here we have a Black male growing up in Oakland, Calif. This is the city where more than half of Black males aren't expected to graduate; 73 percent of those in elementary school are chronically absent; and where African American kindergarten and first grade boys are more than four times as likely as white male students to be chronically absent. Coogler is a minority.
He ended up graduating from USC School of Cinematic Arts where, for the 2010-11 school year, out of 848 total students, only 5 percent were black males. Coogler is a minority.
He was one of just 12 selected for the 2012 Sundance Screenwriters Lab (which is by invite only) and was the only African American. Coogler is a minority.
Throughout his entire journey Ryan Coogler has been in two categories: either the small minority or the only one, yet he hasn't allowed this to define him. He still worked hard, pursued his goals and has only tasted the beginning of all his career success.
This young man is such an example.
And as I watched his speech and listened to the way he spoke, I couldn't help but think, "He sounds like my brother. He sounds like my cousin. He sounds like my uncles."
This truly blew me away because it showed me that Coogler really is just like my brother, and my cousins, and my uncles. He is truly a Black man, no additions and no subtractions. He is real.
So many young Black men think in order to become successful in America (outside of music and sports) they have to step outside of themselves and put on their "white man persona." That they have to change how they talk, do away with the slang, cut out the dreads and become all uptight and "uppity." Yet, this isn't the case. Ryan Coogler does not talk as eloquently as President Obama, and I love it. He doesn't use outrageous vocabulary and too big of words that no one understands. Nor does he say "ya mean?" in every other sentence. He is just himself. Again, he is real; he is black; he is a fine example; and I absolutely love it.
What am I saying? Black men don't have to dramatically change who they are in order to become successful. You can see that Coogler is a real brother from Oakland from the way that he talks down to the way that he dresses.
And Black men can (and should aspire to) be more than rappers and athletes; they should aspire to be the next Ryan Coogler. Sure, people want to look up to Jay Z and Lebron, but I believe Coogler is an amazing example of what a successful black man should reflect. Instead of selling drugs and being on the streets, he went to college and received an education. Instead of dissing baby mamas and sleeping with every "bad chick" because that's what defines a man (sarcasm), he has no children and is engaged to his longtime girlfriend. And although he too was headed down that familiar path of "I have to be an athlete to make it" he challenged himself and opened his mind to the fact that there were other possibilities for a Black man to become successful in life. Sports and music are great, but there is so much more Black men are capable of if they'd step outside the box and explore their other (and most times true) talents and passions.
Black men, you don't have to have 15 tattoos, glorify money, cars and degrade females in order to "make it." You don't have to be able to put your arm though a basketball hoop to be considered somebody. And you don't have to let go of your culture, style or immerse yourself into politics to be respected (and accepted).
Ryan Coogler is who I want my brother and other young black men to look up to. His story, his realness, his relatable qualities…his example.
And did I mention, for the past six years, he's been a counselor for incarcerated youth at San Francisco's Juvenile Hall?
He was a minority all his life and still is in his field. Yet, he made it. Ryan Coogler is the true definition of a successful Black man—one any in our community can relate to because, like Trayvon Martin, like Oscar Grant and so many others—he could (and can be) them. And having  a place on the barely existent "positive Black male stats" lists is a great place to be.
Staff Writer; Shala Marks
Facebook; https://www.facebook.com/shala.marks
Service is her passion, writing is her platform, women and the Black Community are her avenues. Shala Marks is a writer, editor and soon-to-be author. Through her work, Marks aspires to demonstrate "The Craft of Writing, and the Art of Efficacy." She has a B.A. in journalism from ArizonaStateUniversity. Connect with her at http://www.sisterscanwespeak.tumblr.com.