Chris Brown and Rihanna's Never Ending Love Story.
December 27, 2012 by Staff
Filed under Uncategorized
(ThyBlackMan.com) Their on and off again, secretive, under cover relationship is the stuff that makes for good headlines and an even better for gossip sites.  Chris Brown and Rihanna are a subject matter that keeps folks wanting more and a big money maker for entertainment blogs.
Some people could care less about the duo, but others can't stay away.  So what is it that keeps so many intrigued about the lives of Chris Brown and Rihanna?  What keeps us coming back for more and more?  As a matter why am I even writing this? Because you want it that's why.
Well it seems that Mr. Playboy Chris Brown is at it again. No not that.  He's keeping his hands to himself as far as we know.  But he can't seem to choose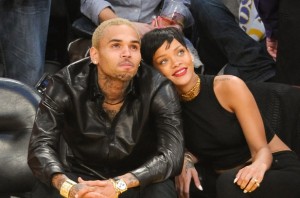 one woman. 
As we all know Chris Brown and Rihanna are back together. This has been proven through a number of sources.  She's also recently decided to let the world know through her music that even if they are back together "It ain't nobody's business; just mine and my baby".
Nobody's Business is the new hit duo with Chris and Rihanna that was recently released. Rihanna has also declared her feelings tweeting, "Damn……. I miss my n***a #thuglife #BFFlife.
It may be nobody's business, but tell that to Karrueche Tran, Chris Brown's other woman, ex-woman, side dish or whatever you might want to call her. But obviously she's something to good ole Chris.
Apparently Chris Brown has two women still sweating him and Rihanna has not been too pleased. Rihanna has recently shared her displeasure with her man partying with her arch nemesis Karrueche Tran.
Karrueche is Chris Brown's ex-girlfriend, but she seems to still be in the picture. She and Brown were spotted kicking it in Paris. Acting out in true Rihanna style The Diamonds singer reportedly sent out a series of angry tweets angry tweets after Brown was spotted with Tran in Paris.
Well inquiring minds want to know this; at least this one wants to know. "What was Karruche doing in Paris?  Does she live there? Was she there on business? Tell me what's up with that?
Well is it over? Probably not. Even though Rihanna is forcing Chris Brown to decide what good will that do? Some are saying it's a done deal between the two, but a close source says some differently.
According to Perez Hilton.com the source says, "She feels disrespected and he's trying to play games and s**t but you know there comes a time when the bi**h is going to wake up and be like 'oh helllll no' and that's the type of s**t she on right now."
Well let's hope that Rihanna knows what's best for her.  She needs to know that Chris Brown is not worth it or worthy.
Staff Writer; LadyK
Gossip/Ent. Tips and Feedback to; LadyK@ThyBlackMan.com