Mommy Amber Rose, Wiz Khalifa Daddy soon.
December 24, 2012 by Staff
Filed under Uncategorized
(ThyBlackMan.com) As usual when celebrity couples announce that they are going to have a baby it sends the gossip world a buzzing. When Amber Rose and Wiz Khalifa announced that they were expecting a child there announcement was just as exciting.
The model and ex-girlfriend of Kayne West-Kardashian Amber Rose and her rapper fiancé Wiz Khalifa announced their pregnancy earlier in September of this year. Amber revealed to the world at the 2012 Video Music Awards that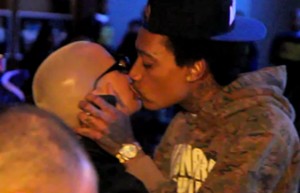 she was with child. It was not as grandiose as Beyonce's announcement, but it was an announcement that made the headlines none the less.
Amber Rose is known for being a model, video vixen and a big time socialite. She has also posed for Louis Vuitton advertisements and she's walked the runway at New York Fashion Week for "Celestino".
 And of course many of us may recall her nude photos leaking last year showing Amber Rose in the raw with all of her goods hanging out for the world to see.  Well she's still posing for photos, but thank God not like before.
Amber Rose has not said an awful lot about her pregnancy, but as they say a picture speaks a million words. The former video vixen seems to have no problem in showing her full pregnancy figure. 
Amber has not spoken much on how she feels about being a mother, per say, but her photos tell the story. Just like many other celebrities Amber Rose has posed for pictures showing her belly bump. Actually if you haven't seen them surf the internet. I trust you, you'll find them somewhere in cyberspace.
Everything's coming up roses for model Amber Rose and her rapper fiancé Wiz Khalifa. Their pregnancy seems to be coming along fine. Trying to prevent from losing another child like their last pregnancy, Amber is most likely being very carefully. The happy and expectant couple recently revealed to Philadelphia radio station Hot 107.9 that it hasn't always been happy times on the road to parenthood.
According to Wiz Khalifa he says that "Her first pregnancy was like right before and it was unexpected," Wiz goes on to say "Right when we found out she was pregnant she lost the baby, and she got pregnant again like right around the time we found out she lost the baby," he added.
Amber Rose was devastated when losing their first child. The couple lost their first child due to a miscarriage during her first trimester. Because of this traumatic experience Amber Rose and Wiz Khalifa had decided to keep her second pregnancy under wraps for awhile.
Let's wish Amber Rose and Wiz Khalifa a happy and safe birth of their upcoming bundle of joy.
Staff Writer; LadyK
Gossip/Ent. Tips and Feedback to; LadyK@ThyBlackMan.com