Can Mr. Obama Be The Modern Day Version Of Lincoln?
(ThyBlackMan.com) Just as President Lincoln financed the Civil War with the issuance of bonds, President Obama can finance an economic recovery through allowing retiring baby boomers to take up to $40,000.00 of equity from their Social Security principle and having the remainder of that principle paid on a monthly basis, by adjusting how the Social Security Trust Fund is financed.
The IOU of $2.7 trillion dollars owed the Trust Fund by the federal government will have to be invested in instruments other than federal government bonds to earn needed additional interest. The $40,000.00 is a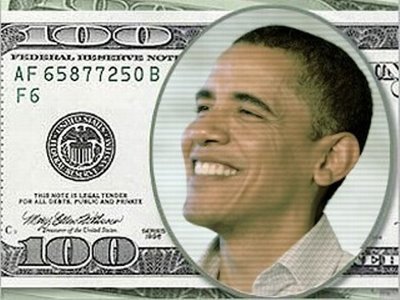 form of a bond issuance, as 10,000 retiring baby boomers each day for the next 18 years will have the privilege and option of using this capital if they so desire. President Lincoln's Administration laid the basis for the creation of  modern day Wall Street, in that through this first of its kind bond issuance, government money dealers were used to sell the bonds to investors to finance the Civil War. President Obama can lay the basis of a new and different type of "Wall Street," in that he can create dealers also, however "away from Wall Street."
These "new government dealers" can be women and minorities. They can be in far-flung places away from Wall Street, such as Florida, Ohio, California, Pennsylvania and other states, including Hawaii. However, this President has to summon the courage to tell the American people that in order for retiring baby boomers to take down up to $40,000.00 dollars from their Social Security principle, the Trust Fund will have to earn additional interest. The safest and most conservative way for the Trust Fund to do this is through the purchase of triple A (AAA) corporate bonds. The purchase of these bonds would be facilitated through a new class of government dealers appointed by the federal government. Mr. Obama, by doing this does two things immediately;
1) He lifts the economy out of this downturn as $400,000,000.00 million dollars ( 10,000 x $40,000.00 dollars ) begins to course through the economy daily as a result of the issuance of those checks to boomers and
2) He shifts part of the center of power in dealing money to minorities and women. You see, power does not always have to come from making enormously large sums of money, and there is nothing wrong with that, but can come from making money consistently, day after day, month after month and year after year.
These "new dealers" through commissions paid by the federal government will become accelerators and catalysis of additional money activities within their communities, just as Wall Street dealers, due to their consistency in making money. The job of the new dealers would be to purchase "worthy triple A (AAA) corporate bonds," for the Social Security Trust Fund out of the $2.7 trillion owed the fund by the federal government thus buttressing the balance sheet of the Trust Fund and sustaining its viability. The $400,000,000.00 million dollars entering the economy due to the velocity of money, in that money handed directly to consumers turns over at least one to two times, is really like $800,000,000.00 millions dollars a day being dropped into the economy.
This infusion of capital will create demand for products and services resulting in JOB CREATION. The federal government, in not taxing the $40,000.00 dollars in partial distributions can do away with the Bush Tax Cuts for the wealthiest of Americans and drop the Tax Holiday credit, meeting the objective of reducing the federal deficit. Go to www.sslumpsum.com for more information. Let's solve this! We must not forget black unemployment is high at 14.3%, with double digit unemployment having been endured for the last five years affecting if not destroying the fabric of black communities. 
Staff Writer; James Davis
More information about JD and his Deficit Neutral Stimulus Plan Can be founded at http://www.sslumpsum.com.