Selena Gomez & Justin Bieber, Yes Hollywood Hearthrobs.
September 10, 2012 by Staff
Filed under Uncategorized
(ThyBlackMan.com) Justin Bieber and Selena Gomez are one of the hottest and cutest young couples strutting around Hollywood these days. Justin Bieber is the heartthrob of nearly every little girl walking the planet earth and Selena has little boy's hormones running amuck.
Selena Marie Gomez, the actress and singer is best known for portraying Alex Russo in the television series, Wizards of Waverly Place. She has also found her way into movies such as Another Cinderella Story, Wizards of Waverly Place: The Movie, and Princess Protection Program.
Justin Bieber was once an unknown from Canada. Discovered after singing Ne-Yo's "So Sick" for a local singing competition and posing a video on YouTube, Bieber was discovered by Scooter Braun, his manager. Now that he is known around the world he seems to have it all; girls adoring him, money, stardom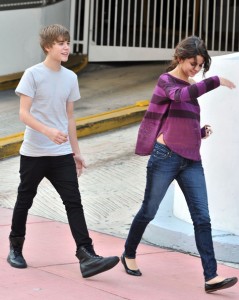 and a little cutie at his side.
Like other celebrity couples Selena Gomez and Justin Bieber are hounded by paparazzi and constantly in the public eye. So far they seem to be handling everything well and taking everything it all in stride. Justin Bieber and Selena Gomez let the cat out the bag back in March of last year when they revealed that they were both dating and had been quite for some time.
Currently Selena Gomez is filming a new project, in LA. After filming a love scene with her onscreen love interest, Naked Brothers Band's Nat Wolff, her real life man Justin Bieber popped up.  Let's hope this does not turn into another onscreen romance roaming into an off screen one. But that doesn't seem to be the case with these two so far. Selena Gomez and Justin Bieber were seen walking arm in arm, while spending quality time together between takes.
According to ohnotheydidnt.livejournal.com it seems that millions of folks are caught up in the Justin Gomez and Justin Bieber frenzy. It has been reported that Selena Gomez and Justin Bieber are the most powerful celebrities online with a combined audience of 50 million global search terms a month.
This power couple are talked about daily in hair, style and gossip magazines. You know you must be popular if simply having lunch becomes news.
Even with their travels and careers the two seem to be working hard at staying together as a couple and making it work.  They have been sighted all of over the place and I'm sure they will continue to be.
Staff Writer; LadyK
Gossip/Ent. Tips and Feedback to; LadyK@ThyBlackMan.com