The Black community owes Tavis Smiley and Cornel West an apology.
(ThyBlackMan.com) Cornell West and Tavis Smiley were the targets of a lot of vitriol when they launched their "Poverty Tour" and called on the President and the nation to address the issue of rising poverty for all Americans.
The vitriol and hate thrown at the two men was not coming from the right wing of the GOP or its surrogate Tea Party entities, it was coming from members of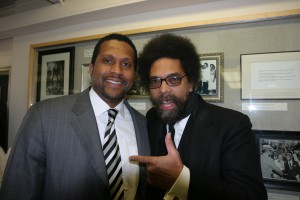 the Black community. Unfortunately, many in the Black community did not take too kindly of two Black men objectively analyzing a Black President on if he was doing enough to address poverty. Many still feel that any criticism of the President is unacceptable.
Tom Joyner was so offended that Tavis Smiley raised the issue he fired him from his position as a political analyst on Joyner's nationally syndicated radio program.
With the Democratic National Convention wrapping up in the Charlotte, NC, it is interesting to note that the issue of Poverty is part of the party platform.
"Fifteen percent of our fellow citizens live in poverty, and one in five families struggles with food insecurity. Many of these families work but are unable to pay the bills. The economic crisis has hit low- income American families particularly hard, but merely restoring our country to where it was before the economic crisis is not enough. We must make ending poverty a national priority." – Democratic National Platform
While Tavis Smiley and Cornel West acknowledged that poverty was increasing for all Americans; they especially addressed the disproportional impact on the Black community.
It appears that the Democrats agree,
"We understand that poverty disproportionately affects communities of color and we are committed to working with those most affected by poverty."
The Black community, some more than others owe these two men an apology because obviously there concerns were valid and more importantly they along with others, forced the Democrats to address the issue in their party platform.
Frederick Douglass understood all to well that power concedes nothing without a demand and that wisdom from an esteemed figured in Black history seems to be forgotten by the Black community. Just because a Black man holds the reigns of power in the form of the Presidency, he is still part of a political machine that only pays attention to those with the most lobbyist or those who make the most noise in voicing their demands.
Staff Writer; Scotty Reid
To join this brother Black Talk Radio Movement feel free to visit; BT Radio Network.
Also connect via Facebook; Black Talk Fan Page.