The Professor and The Producer.
(ThyBlackMan.com) William Jackson (Prof. Edward Waters College) and Emanuel Washington (Producer, "We Remember Raines" Documentary) presented at "The Truth About Becky & Teddy":
A Teen and Young Adult Health Summit. The summit focused on Health and Educational  issues facing 15 – 24 year olds in Jacksonville, Florida and Northeast Florida. 
William Jackson an educator with Duval County Public Schools and Edward Waters College along with Emanuel Washington, Producer of the award winning "We Remember Raines" Documentary and graduate of Raines High School. Both presented at First Timothy Baptist Church in Jacksonville, Florida.
Mr. Washington presented "Getting The Most Out of Your School Experience" talked about the importance of obtaining a quality education and graduating from High School. Earning a High School diploma can open employment and educational doors, how a quality education can assist youth and teens to go anywhere in life they want to go and accomplish their dreams.
A portion of "We Remember Raines" was shown to emphasis the importance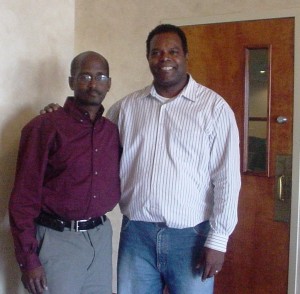 and value of public education and the transition to higher education. How best to work through personal challenges to obtain personal and professional goals. Mr. Washington, available to present "We Remember Raines" Documentary to organizations that work to educate youth emphasizing how important public education is and the value parents should place in their children's minds on graduating High School and then attending Vocational or Higher Education.
Mr. Jackson presented Social Media Safety, Bullying both Physical and Cyberbullying;
Sexting with Cellphones / Tablets and Texting while driving. He conducts presentations on empowering and engaging parents, youth and teens on strategies to prevent Bullying/Cyberbullying, how to deal with bullying in school, and Social Media safety. Parents need to be engaged and connected to their children to prevent bullying from happening and the potential
of child/teen suicide resulting from these social challenges. Mr. Jackson is a member of  Northeast Florida Suicide Prevention Family Advisory Board, a developing group focusing on preventing suicides of youth, teens and young adults. Mr. Jackson is available to present to groups interested in strategies for Social Media, Bullying / Cyberbullying and Technology Marketing/Branding with Social Media to youth and teens.
The MC for the event was Anthony Butler, Sr. E3 Business Group; Poetry was presented by Love Reigns who is locally and nationally recognized as a Spoken Word and Poetry expert. Contributors to the Health Summit were:
Gloria McNair and Katori  Telfair of Duval County Health Department, Tiffany Duhart of  Nokturnalescape, Elexia Coleman-Moss of Empowerment Resources, Inc, Gwen Osborne of Events N More; Entertainment provided by: Cellus aka J. O. E and Hibiscus Afro-Caribbean Groove and Live by Faith Traveling Dancers
Information about Mr. Washington:
We Remember Raines – http://www.youtube.com/watch?v=6XkpJhHRNjw
Information about Mr. Jackson: http://WilliamDJackson.com

"The Truth About Becky & Teddy": A Teen and Young Adult Health Summit
Staff Writer; William D. Jackson
Find out more about this talented writer over at; OCS For Education.
Also check out; http://www.About.Me/WilliamDJackson
My Quest To Teach; http://myquesttoteach.wordpress.com