Tyrann Mathieu And LSU Need to Kiss and Make Up.
(ThyBlackMan.com) Tyrann Mathieu is arguably the nations bets cornerback and return man. There might not be an argument that he is the most exciting player in college football. There were a number of times last season Tyrann Mathieu was LSU Tiger's best 'offensive' option. Ask the Georgia Bulldogs and their fans, they'll tell you that Tyrann Mathieu took over a game that Georgia totally out played the Tigers in last season. 
Tyrann Mathieu was recently suspended from the team due to his second failed drug test. A program as established as Les Miles' at LSU doesn't really 'need' any one player when it all comes down to it but this one player just happens to have saved his bacon on a couple of occasions. Tyrann Mathieu has the option of transferring to a I-AA Division 2-he recently visited McNese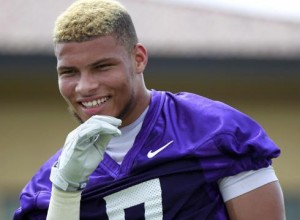 State-but he's not a mid-level talent and would most likely be wasting his time and talent at another program. 
He could transfer to another more established big time program and have to sit out a year. In that case he needs to go back down to Baton Rouge (I love typing the word 'Baton Rouge') hat-in-hand and do whatever he has to do to get back on the squad NEXT SEASON. A quick fix is to sit the year out and work out in preparation for the upcoming NFL Draft combines and pro days or he could face these self-inflicted issues like a man. 
Every eye in the football world is watching him right now, most are expecting him to take the easy (some might say lazy) road, but I don't. I figure he took about 10 steps into the McNese State locker room or weight room, took a decent look around and mentally compared it to the LSU locker room and weight facilities that are probably on par with 90 percent of the NFL franchises and had a change of heart.
Every man has a time in his life where he has to let go of his childish ways and "man up." We all have and if you're unlucky enough to not have had your moment yet but have already reached manhood, good luck brother. Mathieu's return to LSU as a student does not in any way guarantee him a place on the football team in 2013 regardless his football playing prowess.
With two years of eligibility remaining he has a lot to offer the program once he clears the cobwebs and mentally gets his priorities together. While he is doing that the school should show some sack and allow him to remain on scholarship allowing him to go to classes and participate in plenty of on and off campus anti-drug community service.
There needs to be a coming of the minds where a lesson is learned by both parties: the player learns a lesson on how to better appreciate and respect his God-given gifts as an athlete and the blessing that is a scholarship at a major program. The school needs to be just that, a school, where a young man grows mentally and physically under an umbrella of community and gets better. Not left behind.
There is absolutely no question Louisiana State University's football program can't get 1,000 young men to play corner back and punt return for it in as much time as it took me to type this sentence. the only question is Coach Les Miles and the powers that be (who might really only boil down to what Miles wants) be big enough to take Tyrann Mathieu the student back into it's arms with him having a football in his.
Staff Writer; Donnell Suggs
One may also connect with this talented writer via twitter; Suggswriter  and also facebook; D. Suggs.