U.S. Men's Basketball Doesn't Have To Win By A Lot To Justify Dominance.
(ThyBlackMan.com) THE United States men's basketball team defeated Lithuania 99-94 on August 3 to move to 4-0  with one game remaining in the group phase of Olympic competition. During the tightly contested matchup (it should be 'tightly' contested, every man on the floor is a highly respected professional) ll the commentators seemed to focus on was the potential for an 'upset' or an 'unbelievable' outcome. Why would Team USA losing a basketball game against another nation's best basketball players be 'unbelievable'? 
One of the misconceptions of this competition when it comes to basketball is that the U.S. cannot possibly lose a game, ever. When the reality is that my beloved country, The United States of America doesn't lose very often in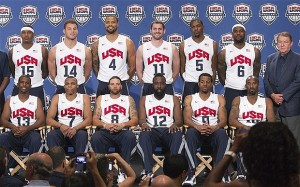 basketball in the Olympics but can lose. What should matter the most is not if they lose a group game against Lithuania or Argentina their next foe but if they don't come home from London with a gold medal. 
2004's debacle, the U.S. left Athens, Greece with a bronze medal, are far behind them but the game of basketball is not. Other nations have improved immensely and more power to them for it. These countries have not however improved enough to make it a habit of defeating the U.S. when medals are the line. Let the record show that 1972, 1988 and 2004 are recognized as non-gold medal winning Olympic games but all ended with the U.S. receiving medals. So the worse we have ever been in third best in the world. 
A five point win over a very good Lithuania team is the same as an 80-plus point over a not-so-good but very game Nigeria team when it comes to the record books. Like the old sayong goes, " a win's a win." Lithuania for example got a great performance by power forward Linas Kleiza, 25 points, who plays for the Toronto Raptors in the N.B.A. The days of amatuers going toe to toe are over, fans should expect nothing but maximum effort from every qualifying country playing in this tournament.
Enough about how many points they beat teams by or how close we come to losing, facts are facts and the fact is the U.S. has won back to back gold medals in men's basketball and looks like a fantastic bet to win their third in a row. Lets all enjoy the Olympic games and the wonderful performances by the U.S. basketball team (Lebron James' nine fourth quarter points-all clutch by the way-for example) and look forward to a gold medal outcome. No matter how many points they win by.  
Staff Writer; Donnell Suggs
One may also connect with this talented writer via twitter; Suggswriter  and also facebook; D. Suggs.