More Than Just American Pride During These Olmypic Games.
(ThyBlackMan.com) The XXX Olympia will not be held in the great state of Georgia like during 1996 or in the continental Unites States unfortunately. The Games will be in London, England this year and I have no doubt they will be as awesome as any games before or after. No, I don't have the faintest connection to the English besides speaking the same language and enjoying soccer. I am as red-blooded an American as there is but am just as excited to see London showcased under the largest sports spotlight in the world. 
Granted the English might be able to hold their heads a bit higher than the rest of us (not like they don't already) for the next two weeks I would like to put a particular spotlight on some African American athletes that are competing on the highest level in the world in sports are are considered non-traditional.
Let's face it as much as I know about sports I cannot name five Black gymnasts, male or female or swimmers. Unfortunate or not, we just don't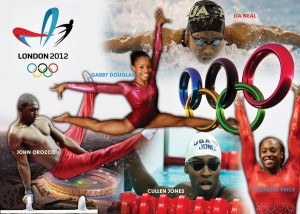 compete in these two sports, to name a very few, on a huge basis like we do in track and field, basketball and boxing, respectively.
A week into the games we have already experienced some wonderful displays of athleticism from swimmer Cullen Jones, he of the 4×100 relay silver medal winning U.S. squad in the London games, John Orozco , the U.S. gymnast out of the Bronx, New York, who is working on a individual medal after Team USA came in fifth place in the team competition during these games and last but never least Gabby Douglas.
Ms. Douglas helped secure a gold medal for the "Fab Five" U.S. gymnastics team that all but ran away with a team gold medal during the July 31 team competition. Douglas and her family-her mother an two siblings-moved from her native Virginia Beach to Iowa in order for her to get the Olympic level training she needed to propel her to the level she's on now. Douglas will compete for an individual medal later this week and judging by the look of her performances thus far she should be in great shape to continue to shock the world.
Cullen Jones earned his second Olympic medal this year after being an integral part of the 4×100 team that won a gold medal in the Beijing Games in 2008. He continues to good even greater works with his charity that helps teach children, especially minority children, how to swim and thus better prevent drowning. African Americans in particular are the most at risk of drowning according to statistics. Jones is a shining example that we are able to be athletic in water as much as we have been out of it. A true pioneer. 
These athletes are not the first in their respective sports to succeed, but they are the first during the social media era to win on the big stage. This puts their efforts, wins, loses and all, on another level of public view. 
We need to cheer on all of our American athletes, I agree, but as Black men and women, moms and dads, brothers and sisters, sons and daughters, we need to follow and cheer like hell for these three in particular as they continue to break down walls and destroy stereotypes. Regardless if they continue to win medals, they have already won in the biggest game of all: LIFE. 
Staff Writer; Donnell Suggs
One may also connect with this talented writer via twitter; Suggswriter  and also facebook; D. Suggs.